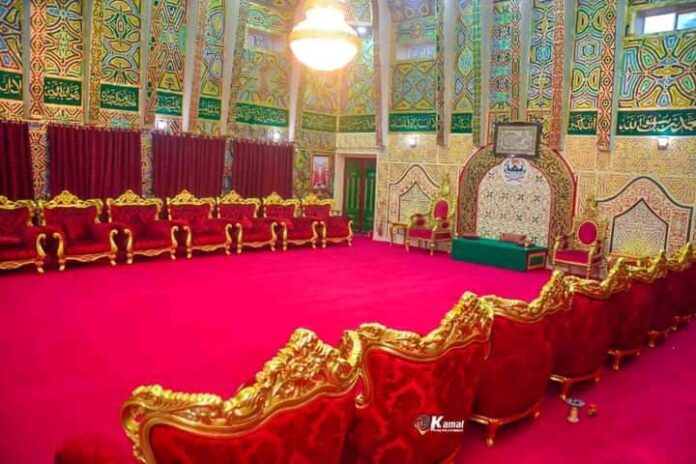 By Abdussamad Ahmad Yusuf
In a historic turn of history, the Emir of Kano Alhaji Aminu Ado-Bayero returned from England, and, directly headed to Soron Ingila in his Gidan Rumfa palace for a maiden council meeting holding at the re-erected council chamber years after it was demolished and scheduled for renovation in the last sovereign. Emir Bayero, expressed his unquantifiable happiness for being honored with privilege of restoring the historical monument Soron Ingila typified.
Gidan Rumfa is, if you like, the official powerhouse of Kano since its relocation from Madabo by the emir it was named after; Muhammadu Rumfa, some 480 years ago.
Gidan Rumfa in post-colonial Kano does not only symbolize royalty or aristocracy, but a glimpse of how the antiquity was. Thus, occupant of the house, the Sarki automatically becomes custodian of history and traditions it encompases.
Soron Ingila is Emir's chamber – Fada (Hausa) — that connects Kano to the history of Bristish occupation. It is a nexus between Kano and imperialiam. In the Book 'Emirs in London: Subaltern travel and Nigeria's Modernity,' to quote from a recent reference, Professor Moses Ochonu noted, "Soron Ingila was originally the room in which Frederick Lugard worked after the military conquest of Kano in 1903,". He continued, "It functioned as Lugard's office and military command center. The building symbolizes Kano's status as the first major British base in the Sokoto Caliphate, other than Zaria,".
Since then, the kano emirate uses Soron Ingila to host foreign visitors and hold special council meetings. It was in the same Soron Ingila Queen Elizabeth of England and King Charles, then a Prince and Duke of Edinburgh were hosted.
The chamber undergone many phases of renovation from Emir Abdullahi Bayero, Alhaji to his son (Dr.) Ado Bayero to cope with the changes of the times and be in conformity with the changing roles and status of the Sarauta system, but was never ruined. Monuments are not meant to be destroyed. When emir Muhammad sanusi I, decided to erect an outer fence in the Gidan Rumfa he maintained the old one. The new one was built around the older and historic fence not destroyed.
However, during the last reign in the emirate, against the established traditions and actions of the predecessors, Soron Ingila was rendered inconsequential, Gidan rumfa tradition tempered with and, bastardized by converting it into totally different form.
Following the suit of his 'Magabata': conservation of culture and tradition of the kano emirate, His royal highness Emir Aminu Ado embarked on the restoration of Soron Ingila not only to continue receiving foreign visitors and other important engagement of the Emir but for the restoration of the history the chamber represents.
It is a popular sentiment that humans 'cannot rewrite history,' Sarkin Kano Aminu Ado-Bayero, however, defies it today as he regenerate and rewrite the history that is Soron Ingila, and without heaping blame on anybody in his usual show of decorum, humility and forgiveness. Allah taimaki sarki.
Abdussamad write in from Abuja, and tweets @AbdussamadAhma1