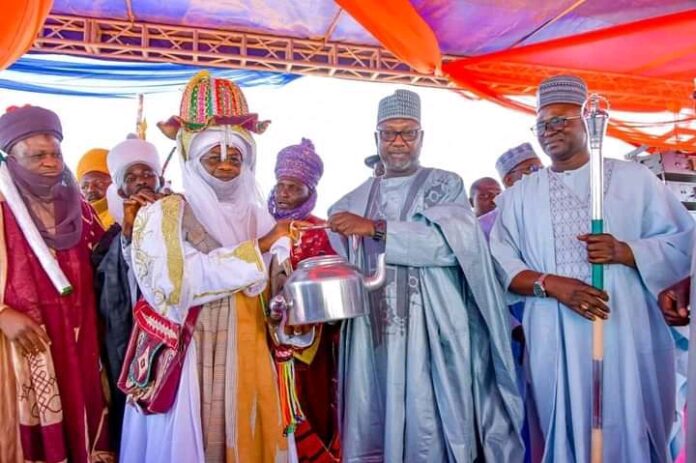 Governor Abubakar Sani Bello of Niger State has assured the people of Kagara emirate that the government was doing its best to ensure that life becomes completely normal in every part of the state, and those displaced, return safely to their ancestral homes.
The Governor gave the assurance at the Coronation and presentation of staff of office to the second Emir of Kagara, Mallam Ahmed Garba Gunna Attahiru II, at the township stadium in Kagara, Rafi local government area of the state.
In a statement signed by Mary Noel-Berje WChief Press Secretary to the Governor, Sani Bello said this was a new era and the people should embrace it and shun acts that will endanger the relative peace being experienced in the emirate.
He commended the Emir and the local government Chairman for working closely to ensure that relative peace is achieved in the local government urging them not to relent.
The Governor then enjoined the people of the emirate to give their full support to the Emir so that he can discharge his duties diligently and succeed in his reign.
The Sultan of Sokoto, His Eminence, Muhammadu Sa'ad Abubakar, represented by the Chairman, Niger State Traditional Council of Chiefs and the Etsu Nupe, HRH, Alh (Dr) Yahaya Abubakar, blessed the event as he prayed for God's wisdom on the emir and to lead his subjects justly.
In his acceptance speech, HRH. Garba Gunna promised to uphold the oath he took and the allegiance he pledged.
The Emir appreciated the Governor for not interfering in the selection process that culminated in his ascension to the throne.
He thanked all the traditional rulers and all those that contributed in many ways to ensure the success of the ceremony.
Highlights of the occasion were the decoration of the Emir in royal regalia, the presentation of royal relics including bow and arrow, hoe, Qu'ran, sword, and the staff of office by Governor Abubakar Sani Bello.
Members of the Niger State Traditional Council, Emirs of Bichi, Lafiagi, Patigi, and some members of Nasarawa State Traditional Council were among the dignitaries that attended the event.
Mallam Garba Gunna ascended the throne in April 2021 following the demise of the First Emir, Alhaji Salihu Tanko in March 2021.