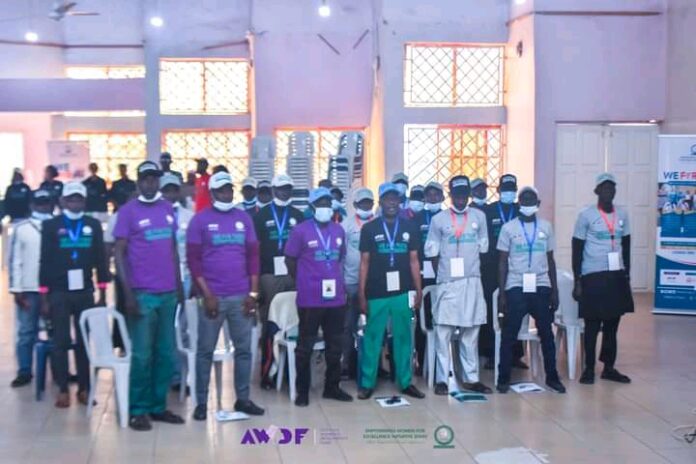 The Empowering Women for Excellence Initiative (EWEI), on Tuesday trained members of the National Union of Road Transport Workers (NURTW), Kaduna State Chapter, on curbing Sexual and Gender-Based Violence (SGBV).
EWEI's Gender Officer, Mr Mendie Jeremiah, said at the event in Kaduna that the training was under the "We for Them" project.
According to the News Agency of Nigeria (NAN),He said that the project, being implemented with support from the African Women's Development Fund (AWDF), was to mobilise 4,500 critical stakeholders to curb SGBV in public places in Kaduna state.
Jeremiah said that the training is one in the series of seminars that would be organised with the goal of working with the NURTW to fight GBV and sexual harassment in society.
He admonished the transport workers to support in cautioning residents and other community members to protect women and girls that are exposed to SGBV.
"You must also learn to stand up for women and girls that are vulnerable as well as the victims of SGBV.
"This is why we are training and equipping you with all the needed information on SGBV, how to prevent it in motor packs and how to report an incident.
The gender officer, who took the participants through the Violence Against Persons Prohibition Act, exposed them to the provision of the law and the consequences of violating the law.
He said that EWEI is working with NURTW and the Academic Staff Union of Polytechnics, Kaduna Polytechnic Chapter, in implementing the two-year project (2022 to 2024).
"NURTW and ASUP were selected because they are all male-dominated unions that will play a critical role in ending SGBV in public places in the state.
"We will work with the two unions for the next two years to raise awareness on sexual harassment in motor parks, market places and other places and build a network of male advocates against SGBV," he said.
Also, Ms Jelilat Abidoye, Technical Adviser, Monitoring, Evaluation, Accountability and Learning, urged the transport workers to control their actions by doing the right thing, adding that there was no excuse for sexually harassment or abuse of women.
One of the transport workers, Mr Yakubu Aliyu, said that the training would help in mobilizing people in the transport industry to stand up for women and report any case of SGBV.
Another participant, Mr Eze Okonkwo, said he will be an ambassador against GBV, pledging to always report cases to appropriate authorities for action.
Also, a commercial tricycle rider, Mr Jeremiah Audu, thanked EWEI for the partnership and capacity building and promised to always report cases of sexual harassment to authorities. (NAN)