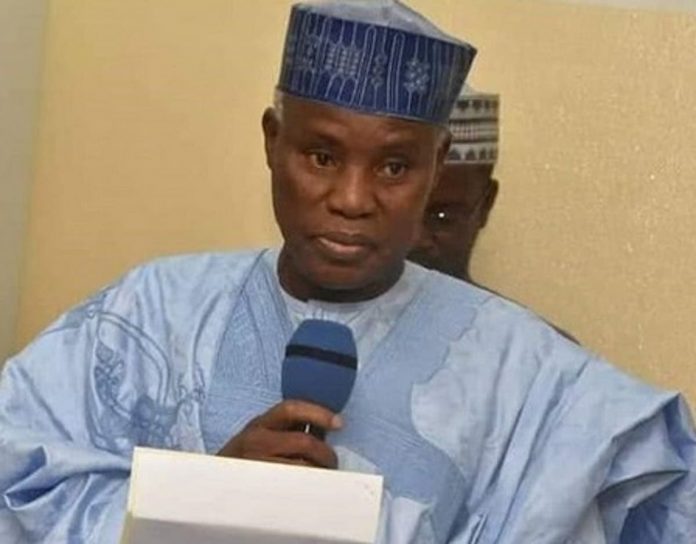 The Minister of Defence, retired Maj.-Gen. Bashir Magashi on Tuesday inaugurated some projects executed at the Defence Intelligence College, Abuja.
The projects, executed by the Defence Intelligence Agency, included a 30-bed students' hostel, kitchen, sports complex, fire-fighting equipment and a 300-seater auditorium.
The News Agency of Nigeria (NAN) reports that the Chief of Defence Intelligence (CDI), Maj.-Gen. Samuel Adebayo, appreciated the minister for his support.
He said that the projects were executed to boost the capacity of the school and enable it to effectively discharge its responsibilities.
Adebayo said that the school had, over the years, been unable to have an auditorium where it could host some enlightenment and educative programmes, adding that it was in view of this that the idea of the 300-seater auditorium was birthed.
He also said that the construction of the students' accommodation was borne out of the desire to run some junior courses concurrently and hold joint lectures.
According to him, now that there is going to be an increase in the number of students, there will be the need to expand the kitchen.
He thanked the Minister of Defence, Retired Maj.-Gen. Bashir Magashi, for approving and supporting the intervention projects for the college.
In his remarks, the college's Commandant, Commodore Ebiobowei Zipele, said that training was vital for any military organisation, adding that the Armed Forces of Nigeria recognised the fact that intelligence drives operations.
Zipele said it was with this understanding that the Chief of Defence Intelligence saw the need to improve on the facilities of the college.
This, he said, had necessitated the infrastructure being inaugurated by the minister of defence.
"The projects being inaugurated comprise the auditorium, the new students' accommodation as well as the sporting complex and the fire truck.
"Currently, the college trains about 60 to 80 students, drawn from the armed forces, ministries, departments and agencies as well as paramilitary organisations.
"The need to increase the number of student-trainees necessitated the construction of a 300-seater auditorium as well as the 30-room accommodation.
"With these infrastructure, we will now be able to train a larger number of students to meet the operational needs of the armed forces," Zipele said.