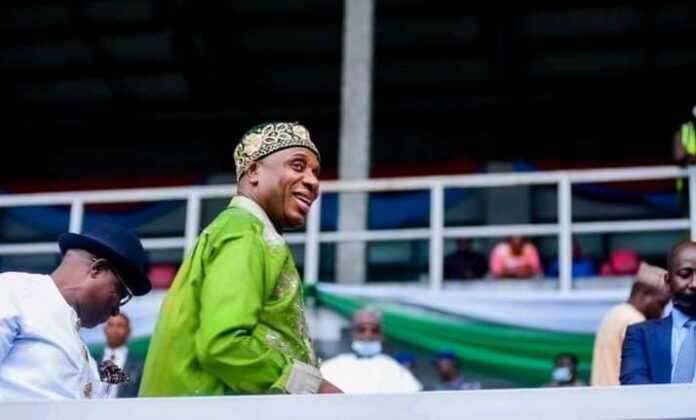 Minister of transport, Honourable Rotimi Chibuike Amaechi who on Saturday joined the retinue of contestants for the office of the president under the All Progressive Congress, has outlined reasons he joined the race.
Amaechi who has hitherto left oblivious his intention, in Rivers state during a thankgiving organized in his honour by the State's chapter of the APC, said his resolve was not about fulfilling personal ambition.
"My aspiration is not about fulfilling any personal ambition.
"I am contesting for office because I believe that it is my moral duty to give what I can in the service of my country.
"To sustain and intensify present efforts at solving our national problems, our democracy must ensure the emergence of a leadership that is equipped with broad experience in governance to ensure stability and continuity. To sustain our democracy and preserve our unity, we need a steady hand and a passion for success in a nation that remains united to pursue prosperity for all Nigerians.
"It is this combination of experience and patriotic passion that I bring to the table. I have been in the political arena for 23 years. I have served at every level of government – local, state, and federal. I have served both as a political appointee and an elected official. I have served both as an executive – as Governor of Rivers State and as a legislator – as Speaker of the State House of Assembly.
I"n these capacities, I did not just fill vacant posts. As a Speaker, I managed the legislative process in a difficult transition from military rule. As Governor, I defeated mercantile militancy and restored security. As a minister, I can modestly claim to have justified the trust of Nigerians.
"Today, I stand as an aspirant to the position of President because of that same passion for people; that same drive for results. More than ever before, I am burning with the zeal to make a decisive difference in the lives of all Nigerians.
"No matter the darts and arrows that come my way, I will remain steadfast because the stakes are too high. We cannot afford to fail. We cannot afford to veer off-course.
"I pledge my heart, mind and soul to the task of building a Nigeria in which every child can go to school, every young person can find work or support to start a business, every citizen can travel safely around the country and sleep at night knowing that law and order prevails and every Nigerian feels included, heard, and respected.
"The road ahead will be long and arduous. But we go forward with faith."