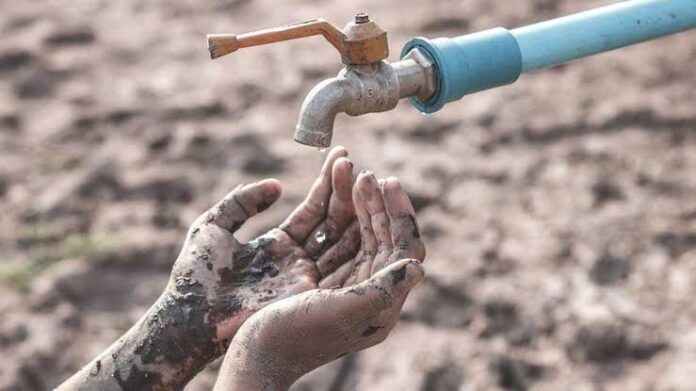 "Water scarcity [in Kano] adds to the list of major problems bedeviling us; Within days, price of water (per 25Litre) skyrocketted from ₦20 to ₦50 in our community. It is entirely surprising," lamented a married man, who reacts to a concern shared by a social media user about water scarcity in the state.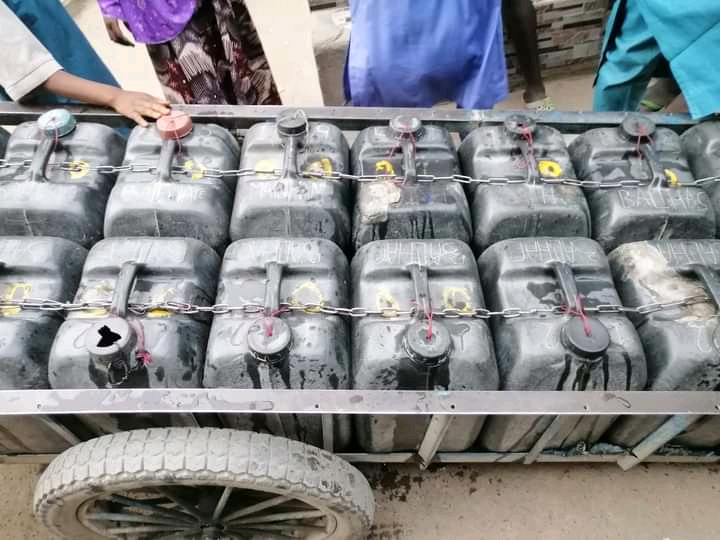 Kano located in Northern Nigeria, is one of the fast-growing states, with an estimated population of 13,076,900, according to sources from National Population Commission and National Bureau of Statistics. The city is put at 4,219,000 population, an estimate by Macrotrends; a research plaform for investors.
Municipal water supply has, by various governments in the state, invested huge amount of money to revitalize generation, purification, supply and distribution of portable water. Just 15 KM from the city, Tamburawa water treatment plant; a multi-billion project was accomplished by COSTAIN under the state government in 2006. The plant by projection, provide 150 million liters to the city, per day.
The investments notwithstanding, in 2022 the story completely is not what to write home about. The city live at the mercy of water vendors, "ƴan Ga-ruwa".
Ƴan Ga-ruwa fetch water from commercial water boreholes, push in charts and supply at commercial rate to home and houses.
Yakubu Musa alludes "lack of planning, resources, growing population and will," in arresting the situation in an increasingly expanding state.
Hassana* a girl in Kofar waika disclosed that, they would be on a queue sometimes for about three good hours to get water since the water pushers/vendors have increased the price and usually proved difficult to get them down to the locality.
"Houses with boreholes in our area allow people to fetch from their tap but you have to wait until their tanks are full" she said.
To reduce the challenge of water scarcity, humanitarian and philantrophic organizations and individuals in the state and beyond, provide interventions either by repair, construction of boreholes or deployment at strategic locations, of water tankers.
At Kansakali, Mallam Amadu* narrate; before the Widi-Jalo foundation donated a hand-pump borehole, their mosque and neigbours suffer the water shortage.
In another quaters Gwammaja, also a community within the city, the situation has not been different. The Local Government Authority provide on Friday, water tanker to distribute water to the inhabitants with trooping boys and girls carring containers to obtain the water.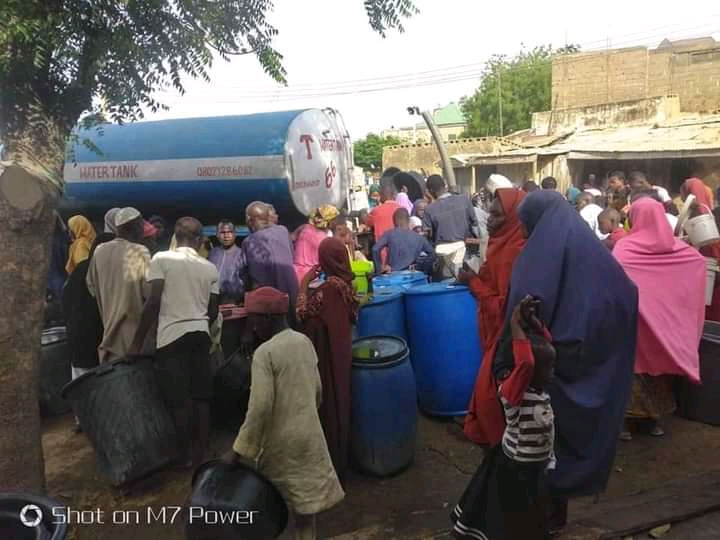 At Gama, a politician, Abdulhamid Umar Muhammad Oscar, donated on April, 11 a tanker of water for the community. The development was taken to social media thanking him, another pointer to the scarcity hitting the city at the moment.
During an urgent meeting to review the situation and proffer solutions, the state government took some major decision.
The meeting chaired by Nasiru Yusuf Gawuna, state's deputy governor was attended by all major stakeholders from ministry of water resources, water board, Rural Water Supply Agency, etc,.
Communicated by Abba Anwar, a Chief Press Secretary to Abdullahi Umar Ganduje, the Kano state governor, is an order for "critical evaluation of the collaboration between state government and France, through French Development on water Project," which is a multi-million dollar intervention.
The state's Rural Water Supply Agency (RUWASA) equally, was approved to repair grounded boreholes accross the 44 local governments of the state.
The challenge of water scarcity explained by Anwar's statement is due to "cable theft by some vandals, epileptic and insufficient power supply," he said. Others include "unpatriotic activities taking place in Kano and Challawa rivers and non-challant attitudes of some water consumers,"
*Names have been changed to protect the identity as requested