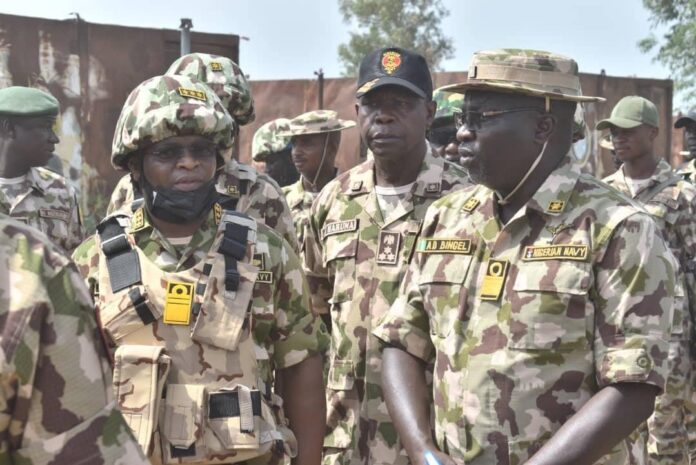 Vice Admiral Awwal Zubairu  Gambo, The Nigeria's Chief of Naval Staff, was on assessment and operational visit to  the Naval Base at Lake Chad in Baga.
The visit is part of activities to ensure professional platform for the Nigerian Navy in operation Hadin kai and the Multinational Joint Task Force to effectively combat the Boko Haram and Islamic West Africa Province, ISWAP, Terriosts activities, within the Area of Responsibility of Sector OP HADIN KAI and Multinational Joint Task Force.
Report had it that other Military Officers in the CNS entourage were the Commander Joint Task Force North east OP HADIN KAI Maj Gen CG Musa, the Commander Multinational National Joint Task Force Maj Gen AK Ibrahim, Commander Naval Base Lake Chad Air Commodore AD Bigel, Commander Sector 3 OP HADIN KAI and Multinational Joint Task Force Brig Gen GM Mutkut.
Also in the entourage were Commander 19 Brigade Brig Gen A Haruna, Commander 403 Amphibious Brigade Brig Gen IO Bassey amongst other senior military officers.