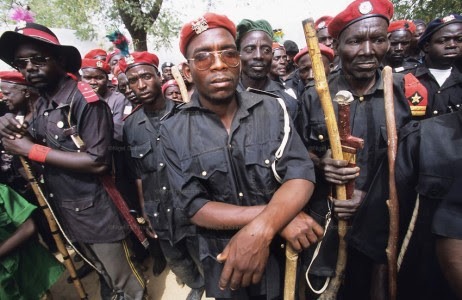 By Abubakar SD
More than a decade ago, the atmosphere in the heart of northeastern Nigeria wasn't as fresh as it used to be, Borno one of the peaceful states turned into chaotic and uncertain places in sub-Saharan Africa. The capital city Maiduguri metropolis and the surrounding villages are no longer safe. In a few weeks' time, the state witnessed an exodus of its citizens to neighbouring countries in search of shelter and safety, leaving their lands, houses, and other belongings behind for their dear lives.
Who are the Civilian Joint Task Force (CJTF)?
They are a group of youths that sacrifice their lives to defend themselves, their parents, and their communities that originated from Hausari community from the Carnage unleashed by the notorious group who were claiming to have been divinely inspired to cleanse the land from atrocities under the guise of religion, The bedlams of this terrorist group eventually paved the way out of desperation to the birth of another group dedicated to directly opposed them in June 2013, and the newbies choose to be Nicknamed 'The CJTF'.
Perhaps the name idea was because at that very time there was an effort to establish joint task force collaboration with Nigerian neighbouring countries. As the name spelt, "civilian" they were poorly armed but bold enough to take the bull by the horn. Initially, their chief weapons were bow and arrow, daggers, swords and later upgraded to more advanced armaments.
The CJTF rise to fame
They started as a community vigilante group, that later gather momentum which earn them the reputation to be part of a government joint task force where the CJTF took pride in giving intel about the brutal terrorist to the security forces. In no time, they successfully defend their local communities with the help of the government forces.
The civilian JTF successfully drove all the suspected terrorist members out of the state capital and got many arrested, until finally, the city returned to "new normalcy".
The CJTF is very much organized like a paramilitary outfit. The administration department consists of the secretary, financial secretary, and spokesman. There are different sectors in different parts of Maiduguri and LGA to which every member belongs. They have a special force, who was trained well trained.
The special force is responsible for engaging in battle with the insurgents and some were assigned to serve as RRS (rapid respond squad). Some were also trained by the police and DSS. According to an investigation report by ripple Nigeria in 2022.
Has the civilian CJTF outlived its purpose?
As time went by, the main purpose of CJTF to drive out what was threats to them (terrorists) from their communities is achieved. Then comes some changes in the system of operations but these changes could not help in shaping its code of conduct.
Report keep emerges from different communities lamenting the CJTF harming civilians rather than safeguarding them. They become too quick to abuse their powers, alleged cases of sexual harassment, theft, abuses, exploitation, and extortion of money, intimidation, and bullying civilians. In short, the CJTF's reputation is badly damaged nearly beyond repairer.
What went wrong?
At first, they were motivated by patriotism. In fact, members were inducted by swearing with the holy Qur'an; no stealing in the mission, no involvement of politics, no quarrel, not an avenue to settle business rivalry, no pointing an innocent person because you don't like them, or to get back at people who have hurt you before. Obviously not anymore!
People who previously praised them as heroes are now scared of them and suddenly don't want to interact or have anything to do with them anymore.
With the growing number of depraved experiences with CJTF, many people begin to call for the group's disbandment. After all, the members have limited or no assignments. Maybe the changes didn't include chasing away the terrorists hanging in their villages or in the forests.
The new normal with CJTF
The bad eggs among the CJTF especially those who reside within Maiduguri has abused their power to the extent that the majority of people don't appreciate them anymore and think there is a need for 180 degrees over the whole as the saying goes "Dan kuka shi ke ja wa uwarsa jifa"
You don't dare date the same girl dating CJTF member, intimidation is the least you would suffer, as they can gang beat you which perhaps hurts or lead to your death.
You don't question their activities even if they didn't conform with social norms, like smoking, drug abuse, or sexual affairs, or else they will kill you like how they killed the headteacher of Asheikh Jarma mega school, who they stabbed to death at his residence.
In what so ever matter, no one has the audacity to challenge their ruling, their say is final! "shikenan sai dai Allah ya isa" or else they would use their weapons on you as they did on one Keke Napep rider after he was asked to stop but refused, which leads to his death. Just to be clear, nepotism is like fresh from the farm!
What should be done with CJTF?
For the record, CJTF's sacrifice and achievements are very commendable and should highly be acknowledged by all. And the returning of normalcy especially in the capital shall not be taken for granted. So, in my view disbandment directly is not a better idea. However, sooner or later the situation will get better or worse. But reports and investigations show little or no hope for CJTF to get better, rather it forecast going worst.
This means the CJTF issue must be tackled for better or for worse. Our hope is that it didn't get to witness something like #endsars to have #endCJTF. Our hope is for the situation not to reach civilians confronting the CJTF.
The CJTF should be internally restructured to the practical security necessity in the state and be deployed to only strategic locations base on intel or need. They should be trained and retrained on civil relations and weapons handling.
The surreptitious section of CJTF should be prioritized to provide intel to the security forces.
Proactive measures should be taken to securitize the member's behaviours on and off duty. There also be zero tolerance for abuses and corruption by publishing names and punishments of crooks.
Sexual allegation and bullying intimidation should have special consideration, reporting and executing panels should be established instantaneously.
Create Borno state road traffic assistants (BOROTA), blend a large portion of the CJTF members into the newly formed agency because of the growing traffic in the city to make a return to normalcy worthwhile.
Put a stoppage to CJTF recruitment and advantageously continual integrating them into organized security forces. Gradually their numbers will reduce and their public image would patch up.
Abubakar Writes from Borno and can be reached via abubakarsd@live.com
The views expressed in this article are the author's own and do not necessarily reflect the editorial policy of Sky Daily