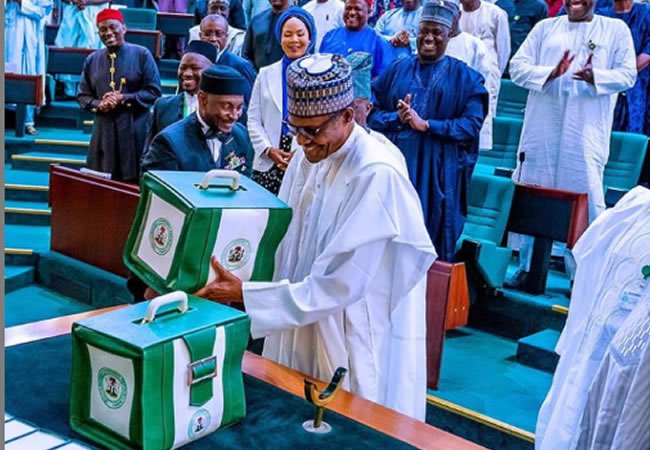 President Muhammadu Buhari has presented the 2022 budget estimate to a joint session of the National Assembly.
The proposed total expenditure for the coming year is put at N16.39 trillion with a crude oil benchmark price of 57 dollar per barrel and daily oil production estimate of 1.88 million barrels.
The exchange rate is projected at N410.15 per dollar and projected GDP growth rate of 4.2 per cent with 13 per cent inflation rate.
The president said the total federally distributable revenue is estimated at N12.72 trillion in 2022 while total revenue available to fund the 2022 budget is estimated at N10.13 trillion.
The president earlier sought to increase the total expenditure from N13 trillion to N16.45 trillion.
Some reasons he gave for the increase are the allocation of N100 billion to Independent National Electoral Commission (INEC) for preparations for the 2023 general election and N50 billion to health workers for hazard allowance, among others.
Meanwhile, President Muhammadu Buhari has justified the frequent borrowings by his administration, saying the country's debt profile is still within a sustainable level.
He said this today while presenting the 2022 budget estimate before a joint session of the National Assembly.
He said though, Nigerians are right to be worried about the government's borrowings and debts but argued that such borrowings were needed as they helped in bringing the country out of recession and boosting the economy.
The president said the target of his administration is to grow the country's Gross Domestic Product (GDP) from the current 8 per cent to 15 per cent by 2025.
Buhari said the 2022 budget is designed to build on the achievements recorded in previous budgets and to actualize the 2021-2025 development plan.