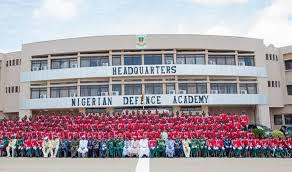 In what appeared intriguing, this newpaper, SkyDaily, reported how the Nigeria's apex military school; Nigeria Defense Academy, Kaduna, was penetrated by bandits who disguised to find their way in, and took lives of two officers. 
Officers murdered in Afaka barracks of the academy, by the bloodthirst bandits are Lieutenant Commodore Okoronkwo and Flight Lieutenant Commodore Awolor. Still missing is Major Colonel Datong.
Earlier on, the Academy PRO, Major Bashir Jajire confirmed in a statement the attack in what he described as Breach of security. 
"The security architecture of the Nigerian Defence Academy was compromised early this morning by unknown gunmen who gained access into the residential area within the Academy in Afaka. During the unfortunate incident, we lost two personnel and one was abducted" the statement read in part.