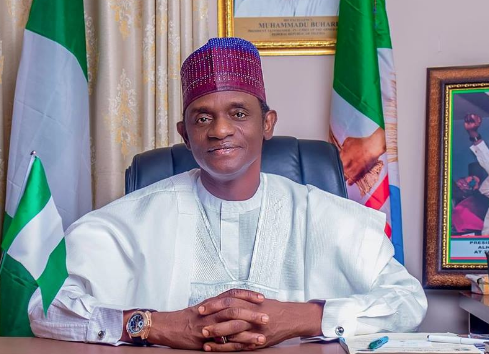 By Prof. MK Othman
In Nigeria, survival as a successful personality requires the ingenuity to be a shrewd multitasks expert. Yes, you need to have a special capacity to sagaciously accomplish two or more tasks at the same time with good to excellent results. Multitasking is the ability to manage multiple responsibilities at once by focusing on one task while keeping track of others as well as switching back and forth in-between tasks and effectively performing them rapidly one after the other.
Multitasking moves from the simple like combination of eating and reading, phoning and typing, driving and talking to more complex and risky ones such as driving on a highway and texting (not advisable), holding two important responsibilities like national chairman of a political party and governor of a state.
This is what governor Mai Mala Buni is doing with extra-ordinary performances. The tasks are extra difficult to a relatively young man of 53 years in a country that hardly trusts young men with leadership.
Nigeria is a country populated by youths with ages between 15 and 54 constituting 50% of the total population while 14 years downwards constituting 42% with only 55 years and above constituting 8%.
This fraction of 8% of the population constitutes mostly the occupants of the country's leadership positions. Retired and over-aged, they should have been at home, playing and telling tales to their grandchildren but they still hold on to power, pulling the strings and calling the shorts.
These are the kind of people who might have known you as a toddler, would still call you "this boy", even after attaining the golden age of 50. They are the country's leaders, surrounded by aides whose appointments are principally based on ethnicity, religion, region, blood relationships or their combination. Nepotism and mediocrity are the bane of our nation's development.
It is under this scenario that Mai Mala Buni emerged to be governor of Yobe state and went on to become the National Chairman of APC caretaker committee, the ruling party, wearing two mega caps at the age of 50.
The APC chairmanship was given to Buni at the time when the "mega" party, despite having the nation's president, 20 governors, 230 national assembly members in its fold was drifting towards implosion. Then, the only saving grace was to search for a credible and acceptable leader who could do the surgical operation and inject life into the "dying octopus".
The party was almost torn to pieces because the then chairman, Comrade Adams Oshiomhole got entangled in the dirty politics of supremacy at state and national levels. He could not withstand the political and legal pressure mounted on him from superior power tussle and thus, let go.
Different warring groups and individuals accepted Buni as chairman of APC for different reasons. Some saw in him a true leader who could carry the party and its entire members to the Promised Land. Some saw an opportunity in using this politically "naïve young man" from the northeast to dominate the party and do their biddings. Others felt that the young man's party leadership will finally nail the coffin of APC, which will eventually embarrass the president and the governors, and pave way for the PDP, the major opposition party, to return to power in 2023.
With the exception of the first group, all others have been disappointed as Buni strives expertly, recording outstanding feats in the party beyond the imaginations of both friends and foes.
Similarly, under the governorship of Buni, Yobe state is experiencing a giant transformation in developments of infrastructure, human capital and agriculture. What are the scorecards of Buni as the governor of Yobe state and chairman of APC?
Within the first six months, the national caretaker committee was able to resolve life-threatening crises in some state chapters like Zamfara, Rivers, Bayelsa and Cross River, which seemed impossible under the Adams led exco.
APC membership registration and revalidation recorded a huge success as the party registered and validated over 40 million members, making it the biggest political party in Africa.
Under Buni's committee watch, APC won gallantly at the Ondo state governorship election, senatorial seats in Lagos, Plateau and other states as well as a good number of state houses of assembly seats. However, the biggest achievement, arguably, of Buni's leadership is paving the way for three governors defection from the main opposition party, PDP to APC.
Governors Dave Umahi, Ben Ayade and Bello Mutawalle of Ebonyi, Cross River and Zamfara states respectively left PDP, the party in which they were elected as governors and joined the APC.
While recording marvelous feats as party chairman, Buni did not allow his state to suffer. The state received a kind of developmental revolution. Within two years, as Yobe state governor, he recorded the successful completion of 41 different projects worth billions of naira. The projects cut across all sectors of societal development. The June/July, 2021 maiden edition of the Neptune Prime magazine catalogued these projects.
However, the most spectacular issue of Buni's style of governance is his strategic effort of developing human capital. Education and health are the pillars of human capital development. Buni declared a state of emergency in the education and health sectors and followed the declaration with enthusiastic action.
Preliminary results of his actions in the sectors are impressive. In 2020 WAEC examination, 12,042 students registered and 67% of the candidates passed with credits in many subjects including English and Mathematics inclusive of 725 candidates who passed with distinctions in all the nine subjects. Similarly, 233 students were sponsored to India to study various professional courses in medical sciences.
We must commend Buni for his tireless effort, not only for preventing the disintegration of the mega party, APC, but by catching some big fish in the muddy river of Nigerian politics. Many of us are baffled by how the APC is gaining more grounds despite its seeming inability to address the socio-economic crisis in the country. Today, many people are disenchanted as their living conditions are deteriorating by the day. Economic hardship and insecurity are mercilessly making people hopeless in a country blessed with unlimited human and natural resources. It is not too late for the party and its members in government to turn things round, though.
They can go back to the drawing board, remove the non-performing personalities in government, develop viable and achievable strategies for implementation.
Lastly, Buni has proved to be an all round groovy achiever, would APC field such humble, hard working and amiable personality as the party's presidential flag bearer in 2023? Would Nigerians give chance to this homegrown, sagacious and strategic achiever to take Nigeria out of the woods? It is time we should be playing personality politics instead of party politics as the difference between PDP and APC is as the difference between APC and PDP is just like that of between six and half a dozen.
Othman writes from Zaria.
The views expressed in this article are the author's own and do not necessarily reflect the editorial policy of Sky Daily