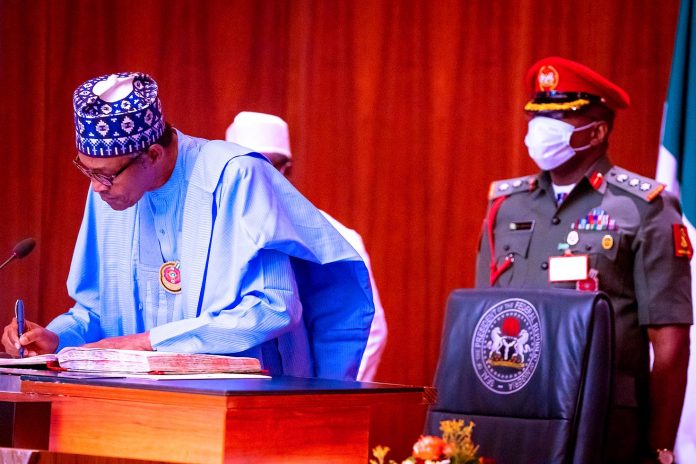 President Muhammadu Buhari has asked the National Assembly to approve a supplementary budget of 895 billion naira.
The president's request was conveyed in a letter to the Senate President, Ahmad Lawan, who read it at the start of plenary today.
President Buhari's request comes about two weeks after the Federal Executive Council approved the money.
The supplementary budget, according to the federal government, is specifically meant to enhance the capacity of the military and paramilitary agencies to tackle the various security challenges in the country.
As part of the financing source for the supplementary budget, the Federal Executive Council also gave the approval to draw down on some existing World Bank loans totalling about 39.58 billion naira.
The approval by the Senate will be done on another legislative day after the appropriate committee has considered the president's request.
In a related news, the Senate President Ahmad Lawan has said President Muhammadu Buhari could not perform optimally in his first tenure because of the rift between the executive and the legislature.
Although the All-Progressives Congress (APC) controlled the National Assembly between 2015 and 2019, the Buhari administration did not have a smooth ride.
Both chambers of the National Assembly led by then Senate President Bukola Saraki and Speaker of the House of Representatives Yakubu Dogara, were on a collision course with the presidency.
Saraki and Dogara defected to the opposition People's Democratic Party (PDP) before the end of Buhari's first term.
Speaking yesterday at the Progressives Youth Conference in Abuja, Lawan said the APC lost four years that would have been used to convince Nigerians that they were right in voting out the People's Democratic Party (PDP).