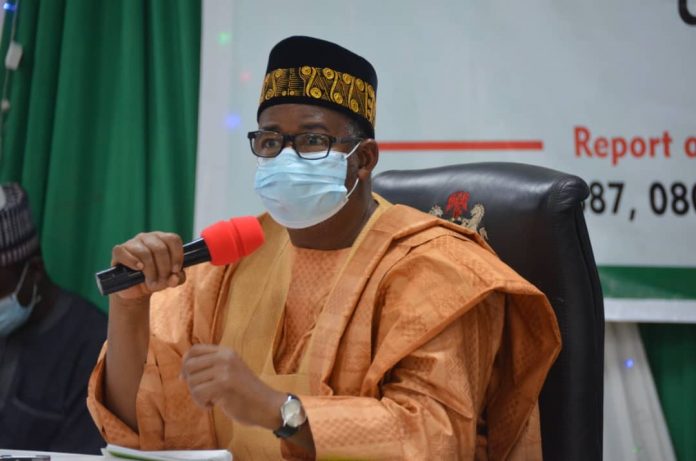 By Sulaiman Maijama'a
In the Glorious Qur'an, chapter two (2), verse 216, the Almighty Allah says: ".….;and it may be that you dislike a thing while it is good for you, and it may be that you love a thing while it is evil for you; and Allah knows while you know not". I may not be an Islamic cleric to provide a detailed explanation of the verse but, with my little, I have seen the emergence of Bala Mohammad as the executive governor of Bauchi State, as the practical translation of this verse. To illustrate, let's take a memory tour.
In 2015 when Bala Mohammad was FCT minister; the then President Goodluck Jonathan; PDD National Chairman, Ahmad Mu'azu among other top officials were in Bauchi for their electioneering campaign ahead of 2015 poll. Recalled vividly, as these men were standing on the podium at the IBB square, they were booed and stoned. It was Bala Mohammad whose cap was hit with table water out of hatred, not knowing he would be the driving force who would later come and revolutionise the socio-economic and political landscape of Bauchi State In less than two years, under his leadership, Bauchi State is becoming the "ameerah" among its sisters in the Northeast. Oh Allah! forgive us for misconception!
We were brainwashed and instilled in us hatred and acrimony against the likes of governor Bala. His image was intentionally portrayed in bad light by the haters of Nigeria and so, we were given a distorted image of him. Now the truth is emanating looking at the bold steps and giant stride the governor is making towards taking Bauchi State to the highest height; think about infrastructure, health care, education and improvement in other critical issues that are germane to the existence of people. I believe we all are now having a guilty conscience for our mess up in the past.
On September 26, 2020, out of curiosity and inquisitiveness, I forwarded an open letter to the governor in which I demanded answers to some questions as to how he gets resources he utilizes to subject Bauchi State into an amazing metamorphosis, in terms of infrastructure. In the letter I said, "Your Excellency Sir, one of your top government officials personally told me that, every month over One Billion Naira is taken out of the Federal allocation of Bauchi State by the Federal government as a pay-off to PARIS Club debts received by your predecessor, Muhammad Abdullahi Abubakar. And when Abdullahi Abubakar was into power, he had in almost every occasion persistently and bitterly complained about lack of resources, but you have never in any occasion grumbled about the shortfall of fund, despite the huge cut-off by the Federal Government. Notwithstanding, we are taken by surprise, the level of capital projects Bauchi State is witnessing under you amidst the effect of Covid-19. Anyone bankrolling your projects?"
I further said "I'm asking this question because there is a direct contradiction between what the former Governor told us and used as a reason for lack of developmental projects and what you are now doing in practical reality with characteristic modesty. I don't want to dwell much in itemizing things but, for instance: the CBN to Railway roundabout road construction took the previous administration four years without reaching anything to write home about and meagre resources were responsible for the delay according to the former Governor. We agreed with him then, knowing fully that the prospect of any project getting successful basically relies on financing. You inherited the road and within your first year, it was 95 per cent completed along other completed township roads. This is excluding the recently awarded Eleven township roads already in progress. Your Excellency, please, who is bankrolling all these? If nobody, then how do we integrate the utterances, the level of poor infrastructure Bauchi State saw under Muhammad Abubakar and what we see in practical reality under you?"
This was in September last year and my questions are still relevant. This year, i left Bauchi in early January when some projects were in progress. From what we used to know, only God knows the timeframe within which a project would be completed but, to my greatest surprise, I turned back to Bauchi this month, three months after I left, to discover that a number of roads construction have been completed 100% and some have reached and appreciable stage. To mention but, a few: Alkali Aminu to Kafar Dumi road construction completed, Muda Lawal to Bakin Kura completed, Bakin Kura to Malam Goje is also done. This is Bauchi metropolis alone and excluding the ones that are about to be completed and the ones that are now awarded. They are too numerous to mention! And all in less than two years!
Should I delve into his track record in healthcare, education, social welfare and improving the political culture in Bauchi State? This should come in other pieces to come. I must at this juncture take a pause and seek for forgiveness from the governor, for the distorted image of him we held in the past. We knew not that, Bala Mohammad would be the driver for the roadmap in our quest for a better life.

Maijama'a, writes from Faculty of Communication, BUK sulaimanmaija@gmail.com
The views expressed in this article are the author's own and do not necessarily reflect the editorial policy of Sky Daily