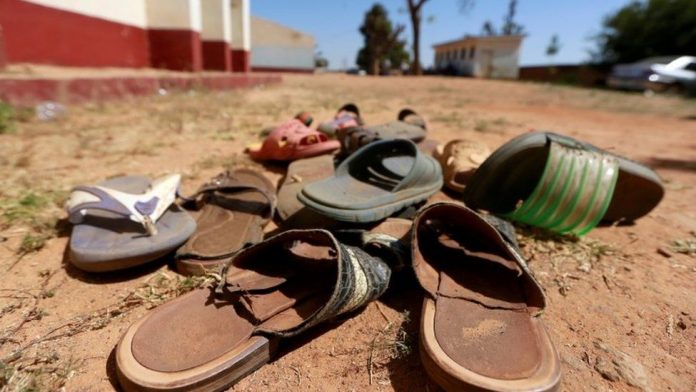 By Ibrahim El-mu'azzam
Why North? Why education? Why students? Why mostly females? Will we continue like this? These are the questions that we are all asking.
Of recent, the preceding insecurity menace in the northern part of Nigeria is taking a new dimension. It's turning to a point that students are now the victims of such insecurity challenges.
As it's obvious that the Northern region, Northeast in particular have been facing a hefty insecurity challenge due to Boko Haram attacks that begun in 2009. Now another of it kind has also been ascertained in the Northwest that started around 2017 to 2018.
These troubles have been leading to massive lost of lives and properties. Destruction of residents and vandalization of resources that cause backward to our community development and economic growth across the Northern Nigeria. And unfortunately, they are yet to be totally wiped out.
Viewing education in the North through the lenses of the insecurity disturbing the region, you will find that the menace have been playing a lofty role in destroying education, downgrading it dignity and removing the it zeal from thousands of students as the result of regular abduction of students.
The case of students abduction was initiated by Boko Haram, where they abducted 276 Chibok girls from their school in Borno state on 14th April, 2014.
Few years later, another 110 Dapchi students were also abducted from Government Girls Science and Technical Collage on 19th Febuary, 2018 in Yobe state.
Those two incidents terrify the entire country, and make students to start losing their interests towards education. Parents were also discouraged to enroll their children to schools, some even removed those in the school at that time. All in fear of what might happen to them before they return. And even the unremoved ones, they lack absolute focus and peace of mind to learn properly.
Some moments later, schools regained their peaceful atmosphere due the absence of such attacks, parents returned their children and the students get an absolute peace of mind. All in thought that such an act shall never be repeated.
Suddenly, on 11th December, 2020, 344 students were abducted from GSSS Kagara in Katsina state.
In less than two months after, on 17th Febuary, 2021, another attack was launched to Government Science Collage in Kagara, Niger state. In that attack, a school pupil was killed, while 27 others were abducted together with 3 members of the school staffs, and 12 of their relatives as stated by Wikipedia.
Also on 26th Febuary, 2021, 9 days after the Kagara abduction, another 279 female students were abducted from GSSS Jangebe in Zamfara state.
On 11th March, 2021, in Kaduna state, students were abducted from Federal Collage of Forestry Mechanisation. 180 among them were rescued while the remaining 39 are yet with the abductors.
Again, in the same Kaduna, on 14th March, 2021, an attempt to abduct 307 students of GSSS Ikara was foiled by the troops and the state government states.
Lastly, on 15th March, 2021, 3 teachers were abducted from UBE primary school, in Rema village, Birnin-gwari local government of Kaduna state.
Despite the fact that all these abducted students regained their freedom, except the remaining 39 of Federal Collage of Forestry Mechanisation, this is a parlous threat to education in the North, and Nigeria at large.
Many schools have been shut down, many students have been returning back home as the problem is becoming frequent that can happen anytime and anywhere.
Education take it way to the stage of no or lesser value, and becoming unaffordable for the common man that can't take his children abroad for studies.
At this moment, their are 5 questions that we continue to ask ourselves;
1. Why North?
This question cover the entire insecurity troubles of the country that are centered in the North. Why will it be only or mostly here? It's not our hope or demand for the problem to be everywhere, but every sensible person will deeply be thinking that why are they only attacking North neglecting the other regions to live in peace? Did we have something different from them? If yes, then what is it? And what can we do to settle the matter?
I think the answers behind these questions are simple. These terrorist have their bad agenda towards the the entire country. People should not think that they are only sponsored to destroy the North.
Yes of course, it's clear that they are sponsored, but I believe even if it's true that they are only to destroy the North, the story will change. Because they will surely extend to the other regions if they are not properly dealt with. As they have been tasting the sweetness of ransom, rape and life sponsorship, they will love the test to continue. As it already started happening. In few places among the other regions.
The reason why they started with the North is to defeat the majority, so that defeating the minority will not be that hard.
And they used the advantage of some factors that the North and the Northerners lacks to easily get there and have effect.
The factors are; lack of unity, that lead us to lack patriotism towards our region and love of each other. That lead us to lack social amenities and economic development. That lead us to unemployment and lack of good education. That lead to stealing, robbery and other social crises among us.
These are the factors that we lack. The employers we have will not employ us. Bandits attack our neighbors and we all remain at home. They will cooperate with some of us to enter our bushes and even our residential areas with their weapons and food. Some of us will be their agents notifying them on all the government and community plans against them. We started crises within us, now they will start their own just as an additional to the one they find us doing.
And with all the above problems we have, our leaders do not care to stop us, unite us, arrange us, and counsel us.
That's why they started with us, and for the North to regain it's peace and harmony, northerners must retrieve back all their above missing qualities. And also always do what is right.
2. Why education?
Education is their greatest threat. Because when they allow it to continue, people will not be joining them anymore as some started. People will also learn ways for self protection and hints to tackle them in an educative manner.
And again, because they need to defeat the government from another angle. As our gallant troops the firing them in the bushes, so let them touch the educational sector by destroying schools, abducting teachers and students. This will black paint the government in the eyes of the citizens and the world.
To overcome this, standard security should be in all our schools. Emergency security lines and alarms should also be provided. There should be community vigilant. And also, secret observation committee(s) should be organized to trace their agents within our communities.
3. Why students?
They mostly abduct students and not teachers. I'm not recommending teachers abduction, but the reason is that; most of the students are underage. They are unable to carter for the responsibility of protecting themselves, they are under the government custody. Their abduction will sound louder than that of teachers.
Lastly, because our society today is more hungry of money than education. Yes exactly. When it's teachers, more will surely be employed. As there are many that are hungry of such positions. Government cannot dare to stop schools because the teachers are abducted.
But when they abduct students, parents will discontinue to enroll their other children. Infact, the non abducted ones will return home. It's will be a great case. And you see here the bandits rip two benefits. First is that they abduct them to tarnish the government's image. Second is that they are indirectly stopping education, as it's one of their aims.
To overcome this, government should provide more employment opportunities and put more zeal and encouragement to the parents and the students towards education, also teach the students some basic tactics of self defense.
4. Why are they mostly abducting girls?
Abducting girls will be more terrible and painful to everyone. Due to their weakness, and their lives will in threat of sexual abuse such rape by the abductors. More than the males.
Another advantage for the bandits on them is that, majority of them after regaining their freedom will not be allowed to return to their schools. Instead, they will be married out without a standard knowledge. And some of the husbands will not allow them to continue. That will be nice to those criminals, as the rate of ignorance increase.
To overcome that, females/girls schools should be in day schools not boarding. Parents should enroll them in the closest schools. Even if it must be boarding, then enough security of their lives and properties should be assured.
5. Will we continue like this?
No! We should never allow ourselves to continue in this dangerous danger. And that can be done through following the earlier suggestions mentioned to each question respectively.
After that, we should not fully rely on government on everything. We should come up with security ideas and put them to practice according to our respective communities.
Also security officials should be good and well armed, also should work to their best.
We should also be the change we want in all our life endeavors.
Lastly, and above all we should always do what's right and obey rules and regulations.
Ibrahim El-mu'azzam is the Founder and President of Better Future Movement (BEFUM), he writes from Zaria and can be reached through el-muazzammail@gmail.com
The views expressed in this article are the author's own and do not necessarily reflect the editorial policy of Sky Daily