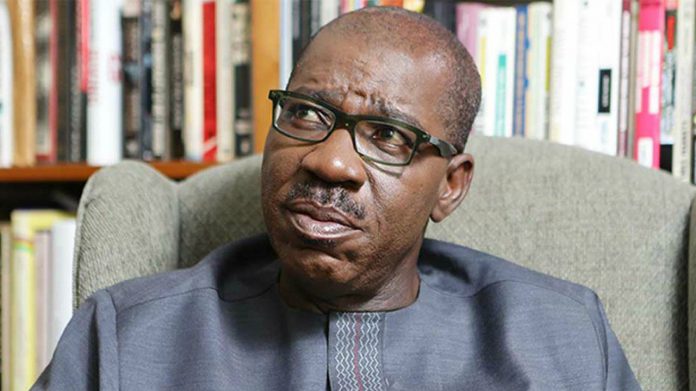 The All Progressives Congress (APC) in Edo state , Wednesday, condemed the demolition of property belonging to citizens by the Peoples Democratic Party (PDP)- led government in the state.
The party recalled that Governor Godwin Obaseki had about this same time last year, demolished the private property of an APC chieftain, Mr Tony Kabaka Adun.
And on Tuesday, the property belonging to Edo APC leaders including the immediate past deputy governor of the State, Dr Pius Odubu, the member representating Owan at the House of Representatives, Prof. Julius Ihonvbere, and Mr Mike Itemuagbon, a Sports enthusiast, all located in Benin City, the state capital.
In a statement issued by the APC spokesman, Mr. Chris Azebamwan, the party said the government's action was aimed "to intimidate, suppress, hound, crush and silence his perceived enemies."
Azebamwen said, "It is shameful and sad that Godwin Obaseki has abandoned his constitutional responsibilities to chase oppositions in the state by destroying their property."
According to him,  "No doubt, it (action) is part of the governor's 'Make Edo State Great Again' agenda to regularly and wilfully demolish properties belonging to perceived opponents, and dissenting or critical voices in the state, in the bid to foist a siege mentality on the citizenry.
"It is on record that Governor Obaseki had earlier this year revoked the Certificates of Occupancy (C of O) of the various property.
"But the demolition was carried out while the case is in court, is unacceptable because it amounts to a subversion of the rule of law.
"The proper thing is for the state government to wait for the outcome of the court process but apparently because it knew that it was pursuing an illegal agenda, it demolished the property."
BLUEPRINT