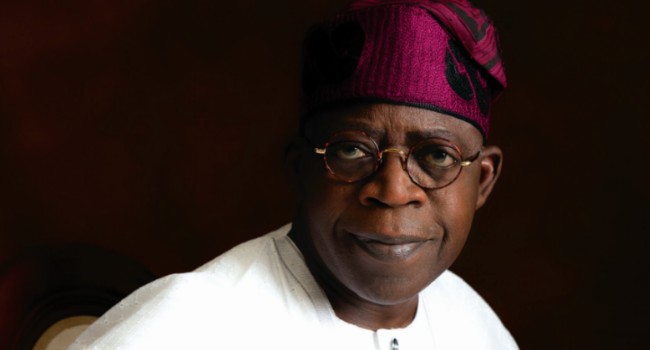 By Abba Dukawa
There is no doubt that many aspects of development by individuals have been fired and propelled by vision which is regarded as an indispensable ingredient and catalyst in the dynamics of human existence. This is why Woodrow Wilson once emphasized that "no one that does not see vision will ever realize any high hope or undertake any high enterprise", a pragmatic statement reinforced by that of Ralph Waldo Emerson who said, "Where there is no vision, a people perish.
Thomas Mann once declared that 'the destiny of man presents its meaning in political terms '. That is to say, in our contemporary experience, it is difficult to make clear separations or distinctions between the politics of life and the life of politics. Once again one of the greatest and undisputable Nigeria political strategist marks quiet 68 years birthday. Jagaban Bola Ahmed Adekunle Tinubu was a founding member of the defunct Social Democratic Party(SDP) and, he was elected as an Senator of the Federal Republic Nigeria to represent Lagos West Senatorial District In 1992. After annulment of the June 12, 1993 Presidential Election he stood with likely winner of the election and engaged the military for the very soul of Nigeria.
Asiwaju Tinubu became a founding member of pro-democracy group, the National Democratic Coalition (NADECO) suffered many arrests and detention, harassments and constant threats to his life.Despite the high risked of daring the militarization of the Nigerian politics but did not give up the struggle. When the last military government set for restoration of democratic governance and the rule in the country. He returned to Nigeria to heed a call for all Nigerians to join in the National Reconciliation and Development. In 1999 elected Executive Governor of Lagos State on the platform of the Alliance for Democracy (AD).
Even his political foes believe that Bola Tinubu is a sagacious and dogged politician in 2003, Alliance for Democracy (AD) considered an alliance with then President Olusegun Obasanjo, in order to have the president endorsed for re-election in return for the AD holding on to its six South-West states. As an astute political strategist Asiwaju survived the massive incursion of the ruling Peoples Democratic Party (PDP) to the South Western States as the lone re-elected Governor of the Alliance for Democracy (AD).
His refusal to enter the deal and it turned out to be his saving grace – he was the only AD governor to win his re-election as the PDP swept away the rest. As as the lone AD governor puts him on a regular collision course with the PDP-controlled Federal Government, especially on his creation of additional 37 Local Council Development Areas for Lagos States. In spite of Obasanjo's administration deliberate withheld statutory allocation of the Lagos State Local Government funds for almost three years Lagos state survived until Supreme Court ruled that Obasanjo's administration should release the seized statutory allocation of the Lagos State Local Government funds. The Jagaban Borgu actively involved in the creation of the Action Congress (AC) political party as recourse to the decimated Alliance for Democracy (AD) and was able won back four of the states.
Base on Tinubu's outstanding policies makes the State an exceptional and the foremost in the country by ensuring the state generate more internally revenue without reliance more on monthly federation account allocation In 2007 left Lagos state government house by making the state more self-relient state in the country by making the state generate more internally revenue without reliance on monthly federation account allocation. Many described him as a dynamic and visionary leader, seasoned administrator, courageous fighter, defender of the oppressed, foremost philanthropist, and man of the people.
After Jagaban Borgu left Lagos state government house in 2007, he, however, did not give up the struggle for strong and formidable opposition party in the country especially during the 2011 general elections. Because After the parliamentary elections in 2011 shows that the People's Democratic Party would retain the presidency, members of the two parties met to discuss the prospect of forging an alliance that would have a realistic chance of defeating the PDP's candidate, Goodluck Jonathan. But after collapse of the alliance talks between the Congress for Progressive Change (CPC) and the Action Congress of Nigeria (ACN) has been blamed on Tunde Bakare, the CPC's candidate for Vice-President for refusal to sign a predated resignation letter irked the leaders of the ACN who decided to opt out of a planned "grand coalition" and go it alone.
Nigeria's political strategist not lose hope on having a formidable opposition party in the country, in May 2013 three major parties the Action Congress of Nigeria (ACN) Congress for Progressive Change (CPC) and the All Nigeria Peoples Party (ANPP) have float a mega platform All Progressive Congress (APC) to oust the Peoples Democratic Party (PDP) in 2015.
Without Bola Ahmed Adekunle Tinubu self sacrifice there would not be All Progressive Congress at the centre in 2015 and 2019 despite his interest to governing the country but choice to support and contributed significantly toward emerged of than General Muhammadu Buhari as APC Presidential candidate and used his resources in marketing him to electorate especially in the SouthWest Geopolitical zone. Tinubu is a man of many parts, whose political profile has now dwarfed his rich resume as a professional accountant and financial surgeon, boardroom guru, strategic economic planner and socialite. There is no evidence to show that Tinubu was born with a silver spoon in his mouth. The former governor is always bubbling with energy, zeal, enthusiasm and optimism. This may have been bedrock of his successes in his chosen fields of endeavor.
One thing that has helped to sustain the prosperity of Tinubu's ideas is his eye for excellence with which he recruits future leaders. Leadership grooming has been found as the forte of great leaders and statesmen. Tinubu is an enigma, what many fail to recognise is how he has over the years blended a crop of new leaders that have turned out to become change-agents and drivers in both Lagos State, Nigeria and the world at large. He has allowed his charisma to infect many young people, thereby enhancing the fructification of his ideas in politics and the professions.
As Asiwaju Bola Tinubu, is celebrating his 68th birthday with "preliminary thoughts on the economic action"the country might take should coronavirus "mortally threaten" our economy sayingGovernment should announce a tax credit or partial tax reduction for firms. VAT should be suspended for the next 2-4 months. This will help lower import costs and protect against shortages.
The visionary leader should be celebrated by all and sundry as his clock 68 years of valuable contribution to humanity and He is a personification of humanity, a selfless leader and an uncommon Nigerian, who thinks more about the other person's feelings than of his own. Jagaban Bola Ahmed Adekunle Tinubu have been such an inspirational leader to Nigerians as you celebrate your 68th Birthday it's my prayer that God will open the gates of heaven and shower upon you unlimited blessings. Wishing you the greatest of birthdays.
Dukawa writes from Kano and can be reached at abbahydukawa@gmail.com
The views expressed in this article are the author's own and do not necessarily reflect the editorial policy of Sky Daily