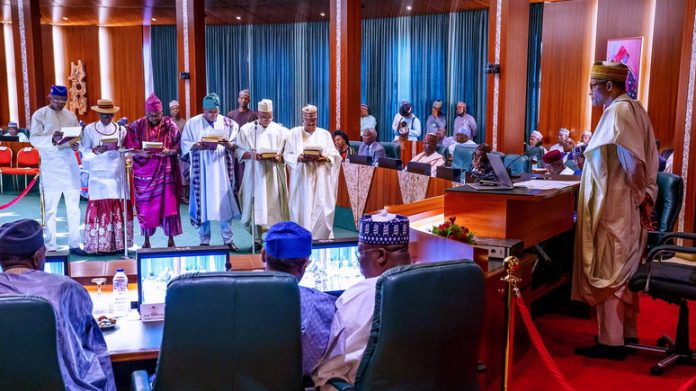 President Muhammadu Buhari has inaugurated Engineer Ahmed Kadi Amshi and 11 others as chairman and members of the National Assembly Service Commission.
The inauguration ceremony was held at the Council Chambers of the Presidential Villa, Abuja.
The new Chairman of the National Assembly Service Commission, Kadi Amshi, is representing Yobe State in the North-East.
Other members of the commission are Babagana Modu, Borno, North East; Abubakar Tutare, Taraba, North East; Hakeem Akamo, Lagos, South West; Tunrayo Akintomide, Ondo, South West.
Others are Bassey Etuk, Akwa-Ibom, South South; Bailyaminu Yusuf Shinkafi, Zamfara, North West; Sani Saidu Kazaure Jigawa, North West; Julius Ucha, Ebonyi, South East; Auwalu Aliyu Ohindase, Kogi, North Central, Muazu Is'haq, Nasarawa, North Central and Atanomeyorwi Francis, Delta, South-South.