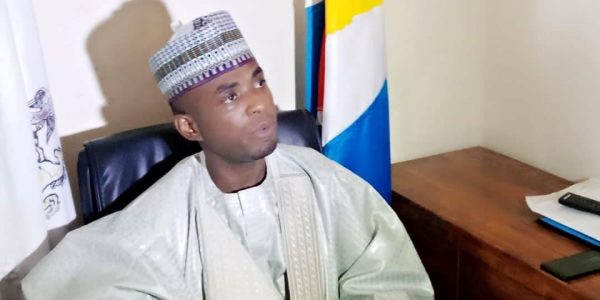 By Mohammed Nazir
The immediate past Federal house of representatives member, representing Yola South, Yola North and Girei federal constituency, Abdulrauf Abdulkadir Modibbo has yesterday notified his constituents through media conference at his Yola North office that he tenderred his senior secondary school certificate (SSCE) to INEC, not his B.Sc.
He further explain that the INEC lifted campaign ban on 18th November, 2018 as of then he is already done serving his country through National Youth Service Corps (NYSC) scheme.
Hon Modibbo said "Regarding the issue of certificate forgery, my primary school head teacher was invited by the court, he tendered all necessary information that should have proven my innocence. On the issue of one-year mandatory service with NYSC, campaigns kick-start on 18th November, 2018 INEC lifted the campaign ban which is few months to general election.
"As of then, my one-year mandatory service with the NYSC has been completed. Furthermore, I tendered my senior secondary school certificate (SSCE) to INEC, not my B.Sc. What does this have to do with NYSC when it was not a requirement for candidates who presented SSCE?
Hon Modibbo express his profound gratitude for the unconditional support his conatituents accorded leading to his successful outing during the general election.
He also congratulated Jafaru Sulaiman Ribadu over his Supreme Court victory with a promise to give him the needed support to project the constituency forward.
Modibbo who said he accepted the court judgment that gave victory to his opponent in good faith, however, noted that it was inherent to keep the people abreast of some grey areas to guard against misinformation and preponderance of falsehoods about his candidature.
He said "I invite you here today to properly address two issues that is on the lips of my constituents. Humans will always believe what they want to believe but I owe to the people who trusted me to make a decision on their behalf at national assembly by shading more light on such issues.
"The court didn't explore every channel at its disposal to investigate/verify those allegations levelled against me. Nonetheless, like I stated in my earlier post on twitter, I accepted the court decision in good faith.
"This is not the outcome we wanted or worked so hard for, but I feel pride and gratitude for this wonderful opportunity you bestowed on me to lead you for this short time.
"This constituency is the center of my state, and being trusted with your votes at polling units to represent you has been one of the greatest honors of my life.
"I know how disappointed you feel because I feel it, too. And so do thousands of people who invested their hopes and dreams in this effort.
So now our responsibility as citizens is to keep doing our part to build that better, stronger fairer and prosperous constituency we seek. And I know you will. I am so grateful to stand with all of you.
"I will like to use this opportunity to appreciate the people that sacrifice a lot to make our struggle less tiresome, and journey worthwhile. I want to thank my boss Alh. Mohammed Gidado Modibbo, His Excellency, former Governor, Sen Bindow Umaru Jibrilla, Rt Hon Femi Gbajabiamila, SGF Boss Gida Mustapha, Her Excellency, Aisha Buhari, (Dr) Mahmud Halilu Modi, Sen Aisha Binani, Hon Abdurrazak Namdaz, Hon Capt Buba, Hon Jafar, His Excellency, Ahamdu Umar Fintiri, Hon Mutawalli, Hon Suleiman Alkali, Hon Kabiru Mijinyawa, Hon Sajo Lekki, APC stakeholders, my campaign team, friends and family, I say thank you all," he said.