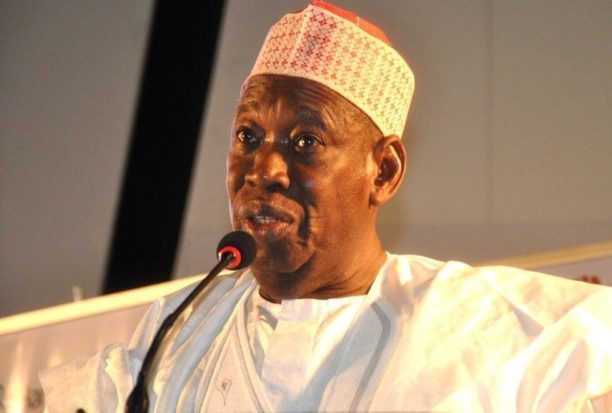 Kano state Governor Abdullahi Umar Ganduje has described the much pronounced 5KM roads projects claimed to have been executed during the administration of Engr. Rabiu Musa Kwankwaso as sham designed to fleece the treasury of 44 local government councils across the state.
Speaking while addressing the newly elected House majority leader of the House of Representatives, Alhaji Alasan Ado Doguwa who paid him a courtesy call at Kano government house Sunday, Ganduje noted that  it was pertinent for him to let the cat out of the bag for the people of Kano to discern the simple fact that funds belonging to the 44 Kano LGs had been grossly looted in the name of what he described as white elephant project.
He said" As you are here today, I can tell you without fear of any contradiction that your money had been used in a Presidential campaign which had turned out to be a spectacular failure and a waste of resources by Kwankwaso.
We want you all to open your ears and watch my lips  and understand me correctly. I want to tell you that monies belonging to you, were lavishly used in funding a useless campaign"
"We will keep saying and saying this to you people, until the person who looted your funds realize the folly of doing that.
My government is a government of continuity which is the hallmark of any promising democratic rule. We have inherited projects that when completed would be used for eternity by our people". He added.
"Malam Ibrahim Shekarau, had initiated the establishment of the two high profile hospitals located at Giginyu and Zoo road respectively.  When we came on board, we felt obliged to effect its speedy completion which we did.
The hospital located at Giginyu had even conducted the first ever brain surgery on a Kano indigene and the hospital is being patronized from all the nooks and crannies of the country. To me it is a tremendous feat" he stressed.