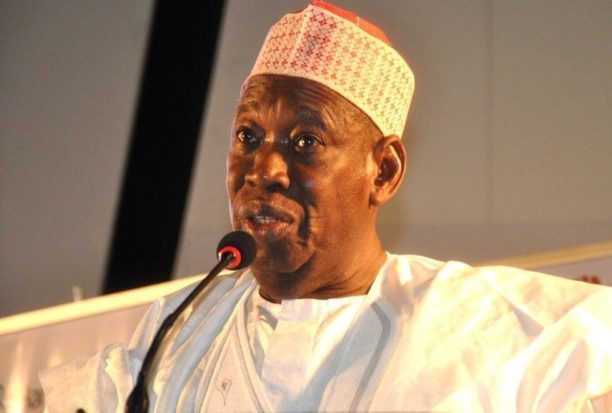 By Amiru Halilu
I can say with high level of certainty that Kano State governor, His Excellency Dr. Abdullahi Umar Ganduje is surely on the loose; he has gone wild and crazy. Any discerning observer knows that Ganduje has undertaking a dangerous assignment; he has been using ferocious violence to silence those who openly show disdain to his political intrigues as well as his party's cruelties and bad economic policies.
Though, it's widely insinuated in some quarters that Ganduje has been acting both on behalf of himself and the presidency.
But that widely held believe completely vanished from the public domain when the least expected person in the land make himself available to tight him up. Unprecedentedly, president Buhari who is famous for demonstrating indifference about dissensions that arose between members of his government as well as his political party had this time around made a yeoman effort to intervened, and that brings an end to this long and unnecessary dispute even though the damage had already been done.
The general population of Kano State had detested Ganduje intensely like a rotten egg and rejected him at the poll during the recently concluded elections because he was caught in a video footage collecting dollars from a contractor. A scandal that earned him a dreadful famous nickname—Gandollar; a scandal that seriously dampened and damaged his political eminence.
His reputation cascaded like an uncontrollable flood, and gone beyond the repairs of any reputation manager on this planet. The good people of Kano State whose collective consciences are still alert said they can't retained a corruptible man of his caliber but those whose consciences and sensitivities were deadened by fiendish act and iniquitous practices spreaded their demonic tentacles, and subverted the will of the people and make sure corruption continue for the next four years in Kano.
Though, even Ganduje's worst enemy can't deny the fact that he has done pretty well in the area of infrastructural developments. As a matter of fact, when it comes to infrastructural developments, one can only equate him with the likes of Akinwumi Ambode of Lagos State. Ganduje met Kano State internally generated revenue at low ebb but his ability to review the revenue collation formula and redesigned a new tax collation system that had taken the state revenue to a greater heights is commendable. Nonetheless, building infrastructure was not enough to wished Ganduje's monumental skeleton in the closet.
A society must have a moral standard by which it is run and govern, or else it will enter into the law of the jungles. In fact, a society without laws would not be a dream; it would be a nightmare; the absence of law and government means the collapse of the society. Good laws are absolutely necessary for any society where people are held to matter, and a public or political office holder is not in any way entitled to be a law to himself.
He can at least be but in his own personal and private life. Because public life is built on the lives and values of individuals. Now that impunity has become a norm, Ganduje entitled to be a law to himself in a public affairs. He is currently operating in a political straight jacket, and he is working so hard to place the good people of Kano in his hazardous ideological straight jacket.
Out of his insensitivity to the plight of the good people of Kano and deliberate attempt to shortchange their lives, make them permanently impoverished, completely destitute and milk the state to its knees, governor Ganduje made a dubious transaction with the unscrupulous members of Kano State house of assembly by assenting to a controversial, questionable, potentially dishonest and illegal bill which guaranteed the speaker and his deputy a life pension.
At a time when sane and foresighted governors are looking for how to cut the cost of governance, Ganduje has been busy adding unnecessary burden to the state just to settle a political score.
In collaboration and self-serving connivance with Ganduje, these villainous and roguish members of Kano State house of assembly who had already thrown the enormous trust vested in them to the wind, passed a ruinous and calamitous bill that allowed the creation of four emirates in the state without caring about the financial implication of the bill; without thinking about the poverty that is breeding numerous streets beggars that have been floating and roaming the streets of the state on daily basis. Well, they returned the favour he has done for them or perhaps, reciprocated an inimical gesture. This is how betrayal of trust has taken over good representation in Nigeria.
Here we are talking about a governor whom secured his second term through massive election rigging; through an election that claimed so much brave lives who stood firmly to protect their votes; through an election that collapses business activities; through an election that reminds the whole world that the powerful in Nigeria still apply ruthless self-interest against the poor, keep them out of sight and make subjugation a viable model; through an election that exposes the electoral umpire's or perhaps, the national electoral commission's (INEC) fraud, deceit and corporate malfeasance.
Here we are, still talking about the political qualification of a man whom without compunction and bereft of moral rectitude urged the economic and financial crime commission (EFCC) to probe emir of Kano, Sanusi Lamido II for an offense mean to be expressing his views about the injustices perpetrating against the masses by Ganduje and Co.
Should probity and prudence are something to go by, we wouldn't have been here talking about Ganduje now; he would have been overwhelmed and completely consumed by his accumulated sin. Ganduje has descends to such cheap jibes with nothing substantial to prove; therefore, making himself ridiculous.
I really weep for Sanusi Lamido II; such an intellectually bookish man, genius, critical thinker, walking encyclopaedia and a brain box trapped himself in traditional turban; receiving threat and humiliation from a dummy, inferior rabble and a little fellow. Am still wondering why such a modern mind yoked himself in traditional turban while the nation is in dire needs of his prolific potentials.
Amiru Halilu writes from Kaduna and can be reached through haliluamiru@gmail.com. Follow me @AmiruHalilu
The views expressed in this article are the author's own and do not necessarily reflect the editorial policy of Sky Daily