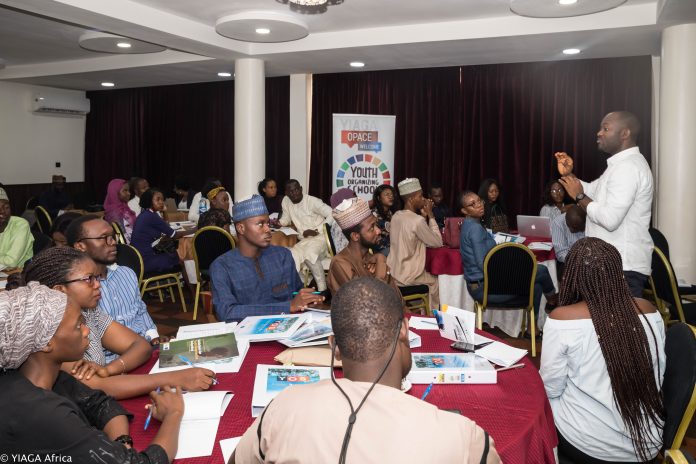 As part of its effort to empower youth for effective policy advocacy, YIAGA AFRICA has concluded a four-day training for young community organizers across Nigeria and some parts of Africa. The training, which ended in Abuja on Friday saw 38 entry level community organizers and young leaders exposed to quality training on direct action organizing, leadership, policy advocacy, non-violent change, storytelling and public narrative, coalition building, community mobilization, and digital organizing.
Over 240 Youths across Nigeria and Africa have benefitted from YIAGA AFRICA's Youth Organizing School and are currently making positive changes in their communities. The Youth Organizing School supported by National Endowment for Democracy was established six years ago to build a new generation of community organizers across West Africa with the capacity to drive social change and transformation. The school combines the theory and practice of building the capacity of young activists, youth organizations and young leaders.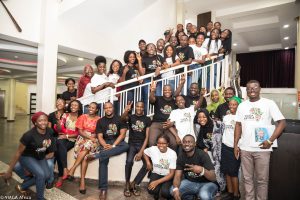 In his welcome note, YIAGA AFRICA Executive Director said,  through this training, YIAGA has strengthened the institutional and technical capacities of youth organizations in formulating policies and implementing advocacy activities promoting democratic values and principles in West Africa. According to Itodo, the Youth Organizing School is a place where young organizers learn how to build strategic capacity by mobilizing people to use their collective power to solve social problems. He said, over 240 young women and men from six African countries have benefitted from this program and YIAGA AFRICA is proud of the change they are making in their community.
The program according to Itodo, will move into morphing a community organizing institute from 2020. "The institute will provide top-notch research and training on community organizing and building for diverse range of stakeholders within the African continent. This year, YIAGA AFRICA will launch an online networking platform to connect the alumni of the Youth Organizing School. This is part of our plan to strengthen this community of advocates and community organizers in Africa', he said.
During this year's leadership training, alumni from the previous season shared their experiences and how the YOS has impacted on their current project. Wasiu Adebiyi who is now a senior legislative aide to a newly elected lawmaker explained how the YOS has enabled him to build a movement in his community. He said, after the training, he returned to his community to commence aggregation of opinions, which enabled him identify community problems and proffer solutions.
On her own part, Amina Yahaya Muhammad who now works International Republican Institute (IRI) said the YOS was no doubt an eyeopener, which gave her opportunity to learn new things like planning, strategizing and documentation, which has made her a reference point in her current organization. Moses Kusko whose experience and knowledge at the 2017 Youth Organizing school built his capacity to manage the Not Too Young To Run movement in his state, also bared his mind saying networking is a very important idea he learnt during the YOS. This according to him has enabled him built commitment and support for the age reduction movement in his state.
Programs Manager, Cynthia Mbamalau also introduced the young community organizers to a distinct approach to leadership, organizing and learning while also identifying the core leadership practices for organizing for policy advocacy and civic engagement. This entails the ability to have a clear definition of an idea, create a connection between understanding the concept and realizing it through targeted action.
She also assisted organizers in identifying their individual values and how it connects to campaigns, advocacy efforts and movement building. According to Cynthia, organizers should know their constituents enough to know the kind of story they can connect to.
A conversation on Global Perspectives on new forms of collective action led by Chris O'connor from National Endowment for Democracy (NED) exposed organizers to best global practices in social movement and community building. According to him, the Nigerian political terrain has experienced successful movements like the Not Too Young To Run but there is much to be done to also improve women participation in the political process. "While political parties are becoming recipient to youth inclusion, it will be more democratic to also advocate for participation of women in politics,". He also encouraged organizers to intensify efforts in building movements saying, the future of democracy and inclusion in Nigeria is bright but it is not happening as fast as it should.
As part of its activities for this year's training of youths across Nigeria and some parts of Africa on leadership, community organizing and movement building, YIAGA AFRICA on Friday led its cohort of 40 community organizers to Karu market Abuja for sanitization and sensitization on best practices for waste disposal. The exercise in collaboration with Pick That Trash initiative involves picking of wastes around the market and properly disposing them to ensure a healthy environment.
During the exercise, the team led by YIAGA AFRICA senior program officer in the youth department, Ibrahim Faruk also sensitized store owners on the need to ensure proper disposal of its waste. The team went on to advise store owners on best practices in waste management and recycling.
According to Faruk, community organizing, and movement building can only thrive if young community organizers create a proper connection with their communities. He said one important way of connecting with the community and securing commitment in movement building is to engage in community development service like this.
"For instance, if you come out on a weekend to clean your community or participate in activities that will improve the community, you are more likely to secure commitment from members of the community when you are building a movement", Faruk said "YIAGA AFRICA is not only building a new generation of young activists that care about good quality governance but also citizens that care about a healthy environment."
According to Nancy who came from Cameroon to join the Youth Organizing School, the sanitization exercise exposed her to the importance of engaging in community development service. According to her, exercises like this will enable her to connect with her community when she returns home, saying she will implement all lessons learnt in Nigeria in her home country.
On her own part, Funmi from Ekiti said she was excited to be part of the exercise as it was her first time getting involved in activities like this. She is excited that market men and women were receptive to new ideas of waste management.