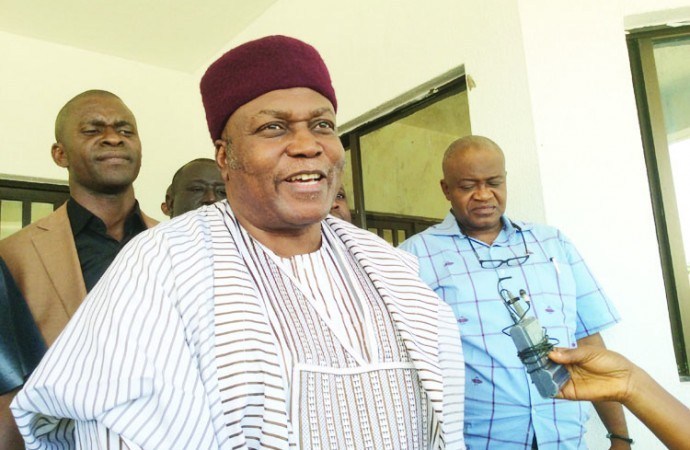 By Nasiru Tanimu Annuri
In less than a week since the return of Governor Darius Dickson Ishaku of Taraba state after a long and conspicuous absence, the heated arguments over his health status has continued to divide Tarabans across ethnic, religious, and political lanes. Sky Daily learnt.
Governor Ishaku's inability to address Tarabans days after returning to the state from a long break, cancellation of most of his public engagements among other unusual developments has repeatedly left residents with more questions than answers.
According to AD Ganar, a resident of Babaya'u in Ardo Kola local government area of the state, Governor Ishaku's conspicuous silence on state affairs during his first public appearance at Arrow of Deliverance Ministry Nukkai, Jalingo on Sunday, is worrisome.
"Our Governor upon his return to the state should swing into action to address our common problems. The inter-communal crisis, raising spate of kidnapping, and the indefinite closure of the state's university among others need urgent attention." Ganar said.
Sky Daily observed that residents of the state are divided across ethnic, religious, and political lanes over the rumoured ill-health of Governor Ishaku. This trend is easily seen from social media posts, particularly Facebook where a section of the state expressed happiness over the development and vice versa.
Taraba state has never been this divided like in 2019 in the build up to the general elections where religion and ethnicity rather than eligibility and competence played key roles.
A PDP Councillor in one of the 168 political wards in the state who sought anonymity blamed the disunity among Tarabans on the failure of religious leaders to preach peace and peaceful coexistence.
The North East Regional Coordinator Peace and National Reconciliation Organization, PANREO, Mr. Philemon Saredau while answering questions from Sky Daily reporter, laments the triumph of hate over love among Tarabans.
He said God is never happy in the first instance with those harbouring hatred and making hates comments.
"Instead of hate, we should always love each other and wish each other good as we will wish ourselves"
"Loving across borders is what God wants. Only God decides our fate. Governor Ishaku will live long in good health to serve Tarabans as ordained for the next four years and the Lord can decides otherwise at His grace." Saredau, who is also the current President Christian Forum for Peace and Conflict Mitigation in Taraba state added.
A religious cleric based at Wuro Sembe area of Jalingo local government who simply gave his name as Malam Musa argued that it's below humanity to celebrate someone's ill-health talkless of a leader.
He said Governor Ishaku has underperformed since first becoming the state's governor in 2015 especially in areas as glaring as infrastructural decay, security breakdown, and education sector collapse.
"But that doesn't not means I should be happy because the Governor is sick. No one is above sickness." He added
For JD Yaji, a Jalingo based public affairs analyst, campaign of calumny is tearing this country apart.
"Constructive criticism to any Government towards good governance is allowed. But wishing someone death is inhumane and against the teaching of both Islam and Christianity. Let us all learn to preach peace, love and unity in Taraba state and beyond." Mr.Yaji added.