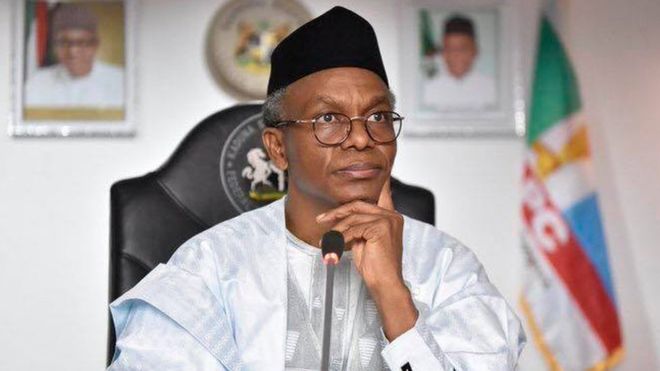 Kaduna state governor, Mallam Nasir El-Rufai was in Lagos last Saturday at an event organized by the Bridge Club in Ikoyi, Lagos tagged  "An evening with His Excellency Mallam Nasir El-Rufai, Governor of Kaduna State." to commemorate his visit. El-Rufai in response to a question on godfatherism by three times Lagos state commissioner and Tinubu ally turned adversary, Dr Muiz Banire SAN, said Kaduna state used to be a lot like Lagos and that before they were retired by his victory in the 2019 election, He said "there used to be '3 or 4' people you could not 'become anything' unless they were by your side."
El Rufai may have sought to either exploit the enormous powers a 'similar problem too' narrative has over an audience or to characteristically, depict himself as a political gladiator worthy of emulation. But one thing is not in doubt, El Rufai from all indications, is being politically dishonest.
At no time did anyone, either as a member of the PDP or the APC and either independent or as part of a cabal, sit down to decide who get what from the bottom to the very top in Kaduna state than under El-rufai's administration.
In 2015 for example, President Buhari despite being in seperate camp with the state's elite and never hand-picking candidates for his party, adventitously had the closest thing to an influence over Kaduna state electorates due to their perception of him as a man of integrity.
El Rufai prior to getting elected had been labelled a hypocrite in some quarters for aligning with Buhari to reap the goodwill of the former. He became governor in 2015 only because Kaduna people saw him as a core loyalist of Buhari's. So who were the godfathers in Kaduna that were still active till they were 'retired' by his victory in 2019?. Can El-Rufai tell us what he means when he said "One of them boasted that he put me in the government house and he would take me out."?
El Rufai has a notoriety for grand standing whenever an opportunity presents itself and with a possible Vice-Presidential slot up for grab after Buhari leaves office in 2023 (if he lasts that long), those comments depicting him as a leader of extraordinary proportions came as no suprise.
What is shocking however is the magnitude of the hypocrisy involved. El Rufai shouldn't be heard saying anything when there is any discussion on the impropriety of godfatherism in Nigerian politics. A man who single-handedly frustrated two serving Senators out of APC from his state for not seeing things his way, openly called on people to assault them, and, of course, unashamedly handed his stooges the party's tickets in their respective zones have no say in matters related to imposition of candidates and ills of political godfatherism. One of those beneficiaries is his former Special Adviser on Political affairs, Mallam Uba Sani, now Senator-elect for Kaduna Central.
Senator Shehu Sani,the out-going senator of Kaduna Central constituency was quite vocal in his reference to Kaduna APC senatorial primaries where he was schemed out through a 'Kangaroo election' processes supervised by El-Rufai. Senator Suleiman Hunkuyi, another victim of El Rufai's politics of godfatherism had his house publicly demolished and both Senators openly accused the Kaduna state governor of being behind several attacks on them and their supporters by armed thugs at a press conference held sometimes in 2017 at the National Union of Journalists, Kaduna state secretariat.
Is El Rufai really speaking on the ills of godfatherism in Lagos? Or is this a case of the pot calling the kettle black? How is it  possible to track down 'just 2 million' of persons that didn't turn up to vote? If N2bn is needed to defeat Lagos godfathers as alleged by El-rufai, how much is needed to defeat same in Kaduna state under his watch? Such baseless allegations are something only he (El-Rufai) can explain better. But his many attempts to portray himself as a political Super Man by fabricating a story on having to overcome '3 or 4' imaginary godfathers in his home state is an effort in futility.This is a pretty much verifiable piece of information.
The Lagos State Publicity Secretary of the APC, Joe Igbokwe in his response on behalf of the party did not waste time denying that Asiwaju Bola Tinubu was a godfather, what he did was wax poetic about the 'party leader' while stating the very obvious as far as people like El Rufai are concerned- "they want to be like Tinubu but they can't be like Tinubu".
Either way, its not uncommon for people to highlight the evil in a person to pass themselves off as good and to also hate a person for being everything they aspire to become.Even if it means telling a lie or two.
Umar Sa'ad Hassan is a lawyer based in Kano
Twitter:@Alaye_100
Email:uhassan077@gmail.com