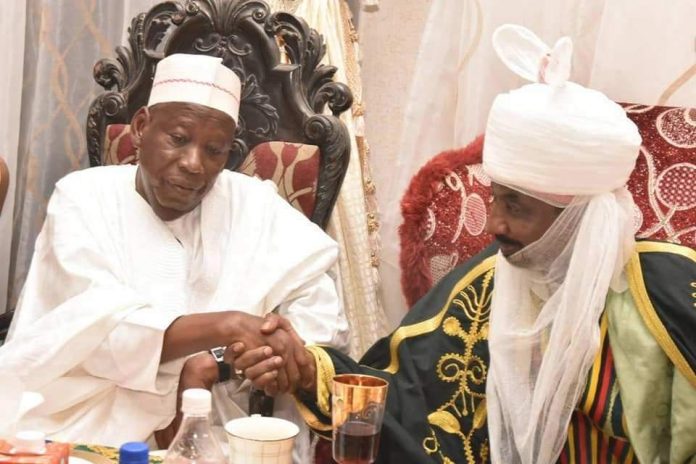 In Nigeria, people and culture are inseparable since there is no denial of the fact that what makes any human society is its culture; a Latin word which was derived from "colore" meaning to practice or cherish. For a society to be societal it must be cultural; therefore, society and culture are also intertwined. In the same vein, going by the theory of environmental determinism, the culture of any society is largely dictated by its geography. Put another way, there is conspicuous sociological interplay among the concepts of culture, nurture, and nature. The culture of a people is their identity as it affords them due recognition.
Kano, is a historic kingdom and traditional emirate in northern Nigeria. According to the Kano Chronicle (1890s), the best-known native history of the Hausa people, the Kano kingdom was founded as one of the Hausa Bakwai ("Seven True Hausa States") in 999 by Bagauda, a grandson of Bayajida (Abuyazidu), the legendary progenitor of the Hausa people. Its capital was moved from Sheme (to the north) to the present site of Kano city in King Gajemasu's reign (1095–1134). The Emirate was formed in 1805 during the Fulani jihad, when the old Hausa Sultanate of Kano became subject to the Sokoto Caliphate. During and after the colonial period the powers of the emirate were steadily reduced.
After the demise of Emir Ado Bayero, the former Governor Central Bank of Nigeria, Sanusi Lamido Sanusi become Kano Emir through political influence of Engr Rabiu Musa Kwankwaso, thus denying Ado Bayero's children access to the throne. This move was welcome by many considering Late Muhammadu Sanusi I was the Emir before Ado Bayero.
Emir Muhammadu Sanusi II ascend to throne with a new style of leadership that even the kingmakers considered it to be more of western, a path alien to them unlike his predecessors. His trouble began the moment he started being selective when it comes to playing politics with religion.
The Emir is perceived to be on a crusade to save the North from disintegration. Whenever an opportunity present itself, he will be delivering lectures about economics, politics and religion. He has positioned himself as the most outspoken Emir and saviour of Northern Nigeria.
Sanusi II fearless or carelessness in calling out prominent politicians at public gathering made him to be champion to the masses and enemy to other leaders and kingmakers in political world. Many politicians see Kano Emir as a threat. Others considered him to be an opponent who uses traditional influence to garnered publicity, making things easier for him whenever he decided to venture into politics.
Moreover, Emir Sanusi never failed to voice his concern, pointing out government failure to address the issue of security, illiteracy, Almajiri menace and economic situation of the country. He always got away many times because some politicians think he was a nuisance and desperately looking for recognition, so they never had any issues with him. The Emir should have steer clear of politics because it was dirty and the institution is so weak that people of his position should not venture into.
The Emir trouble commenced when he started voicing out his concern on Ganduje's economic policies. Not long after Ganduje opened up a corruption case against the Emir in a move seen by many as a political witch hunt that captured the attention powerful people like Vice President Yemi Osinbajo and business tycoon, Aliko Dangote. These powerful people intervene and persuaded Ganduje to shelve the case with the assurance that the Emir would not be involved in political affairs again.
What Emir Sanusi didn't consider or chose to ignore is the fact that there cannot be a permanent friend in politics but there is always going to be a permanent interest. His odd behaviour of publicly criticising people because the position he occupies is known for treading with caution in regard to religion and politics. The late Ado Bayero did not record an infamy for airing divisive and incendiary statements. It was a tradition that earned Ado Bayero a lot of respects and veneration, and it was withdrawing from the tradition that has consumed Lamido Sanusi.
However, destroying an influential Emirate that has stood firmly and strong, even before the amalgamation of Nigeria because of political differences is low even for someone like Ganduje who is considered by many to be fond of breaking institution if it will protect his interest. Even Hollywood movies that seek to terrify their audiences with apocalyptic scenarios tend to use the destruction of iconic buildings and structures as their climactic image. It is because they speak of the destruction of an entire city, a society, a nation, a civilization, and a way of life. The destruction represents not just the destruction of those immediately living alongside these monuments, but of entire generations.
Expert in the field of economy laments that it takes billions to manage an emirate, and Kano has just had additional four. Imagine the first-class Emirates as "first-class" factories for capitalizing on economic areas in which Kano has advantage. Tax-payers' money are just about to be wasted in pursuit of a silly vendetta.
No one in his right mind can support Ganduje's  plans to decentralize Kano Emirate because it matters little to the poor people who need more infrastructures and jobs creation than this neckechief project that will not yield a better outcome; a move that only divide the people of Kano and render him a lot of enemies as a result.
Both traditional and political leaders have one common goal: that is to acquire power and use it to fulfill their aims. However, to achieve this object, their methods are different. Traditional leaders mobilizes sensible people in order to get their support to capture power; while political leaders uses intrigue, diplomacy, and makes attempt to win public opinion either democratically, if the system allows it, or usurps power by any means necessary.
Nonetheless, it will also serve as a lesson that traditional rulers should learn not to bite more than they can chew. They should know their limitations and stayed away from claptrap of the Nigerian politics.