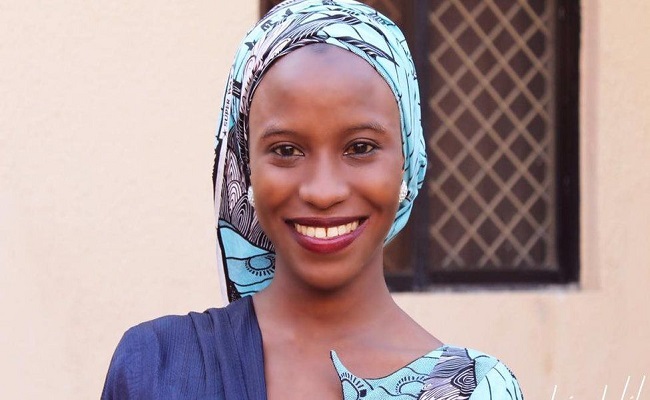 Several reactions have trailed the release of Zainab Aliyu, a Kano based Nigerian arrested in Saudi Arabia for smuggling in Tramadol, a banned substance while arriving for the lesser pilgrimage in company of 2 family members.
While a lot of Nigerians are commending the Buhari administration for its swift response after the arrest of a 7 man drug ring at the Aminu Kano International airport also allegedly specialized in sneaking drugs into the luggage of unsuspecting travellers for onward transmission to Saudi Arabia, some have criticized government for its favouritism in the handling of cases of Nigerians with legal troubles abroad citing Abike Dabiri's recent name-shaming of 5 ibo armed robbery suspects in Dubai, UAE.
They argued that in line with Buhari's '97%-5%' dividend promise of 2015 depending on how Nigerians voted, it is no suprise ibo criminals are 'named and shamed' while those of the Yoruba and Hausa extractions are not named at all. A Hausa of North West extraction,Kano in particular where he got the most votes, would have everything humanly possible done to ensure she returns back home.
One thing i am very concerned about however is the extent to which those campaigning for her release acquainted themselves with the facts made available to us. Its important to do a thorough balancing of what one knows as against what it is they may not.The airport syndicate was rounded up after the NDLEA commander at the airport investigated a petition by the lady's father.7 airport staff are being accused of having planted the drugs in an extra luggage with her name.
Are there any chances that a plan could have been hatched for others to take the fall so it could be used to hoodwink foreign authorities?.Some thorough planning and efficient string-pulling could make that happen, no?.
A lot of other cases suddenly started emanating with a lot of people coming forward to say they have been victims of what they mostly described as a connivance between airport staff, airline operators and persons in other countries.In every case of involuntary peddling of substances,one fundamental question we need to ask and as a matter of fact, one that should justify any agitation for freedom on our part is whether the intended recipients of the bag outside this country have been named and by whom?.If no one apprehended as part of an airport syndicate has named not only who was going to receive the bag overseas but also how they were going to do so, Nigerians need to thread with caution in calling for the freedom of such 'innocentees'.Because we may very well be fighting for criminals.
The media extensively covered the Zainab Aliyu saga with a lot of them going as far as disclosing what the authorities found; some members of the alleged drug ring having each other's phone numbers and calling themselves at several times.And also a photo of 2 parcels sent via Whatsapp messenger from one to the other. No disclosure as to the contents of the parcels or the nature of discussion the alleged members had. Bearing in mind also that confessions could be coerced,most of the publications i read only narrated how the drugs were planted without citing them as confessions.
Fellow Nigerians, we must endeavour to always act in our best interest. Most Nigerians arrested overseas with drugs from now henceforth will start to say they were planted on them back in Nigeria and even people here will jump on social media to help the world laugh at us. Our authorities must be made to understand the sensitivity of these cases and how best to proceed.If there are drugs or other contraband in a luggage bearing the name of a person, the findings after investigations should reveal who was going to claim the package and how they intended going about such so it would be investigated by the authorities in that country.Only an outcome of such can be deemed compelling evidence of innocence.
Every society tries as much as possible to make laws that hinder the festering of ills that are detrimental to it. When kidnapping became rampant and more victims were being killed than returned, Adams Oshiomole as then governor of Edo state made sure the offence carried the death penalty. Saudi Arabia is the holy land of the muslims and a death penalty for drug offences is meant to deter anyone from desecrating the land. Interceding on behalf of alleged drug offenders without justifiable reason is akin to the Kingdom requesting that its citizen apprehended in a boko haram enclave be set free because he was handed the wrong address over there.
Anyone who is accused of planting drugs in a bag bearing someone else's name must have revealed how the drugs would be received over there in other for that to be investigated before government calls for the release of the 'victim'.Other than that, the best way to proceed is to have the Saudi authorities delay execution of the 'victim' pending the outcome of the case against the alleged culprit.
The airport drug ring is one with several perhaps never-before-published stories surrounding it.They are said to have agents outside the airport who hook them up with intending travellers ready to make some cash and an agreement is struck as to fee and mode of delivery when the trafficker arrives their destination. Saudi Arabia carries a very large incentive due to the death penalty in force there with cocaine couriers reportedly earning as much as $171,000 (N61.5M). It is no secret Nigerian criminals are among the smartest anywhere so we must thread with caution so 'the bag was planted' doesn't become a get-out-of-jail free card for anyone rich enough to have a fall guy sought.
Umar Sa'ad Hassan is a lawyer based in Kano
Twitter:@Alaye_100
Email:uhassan077@gmail.com