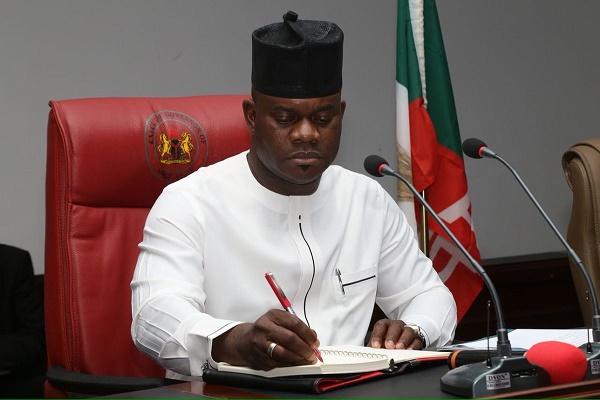 Governor Yahaya Bello might be on his way out of the ruling All Progressives Congress for the Accord Party, in order to avoid a booby trap allegedly set by some powerful forces in APC to prevent him from clinching the party's ticket.
The governor is set to contest for a second term in office as the state prepares for election in November.
According to reports, Governor Bello's hope of securing the ticket of his party, the All Progressives Congress (APC), for the election is under threat as a result of criticism by stakeholders that he has performed below average in office.
FOMBINA TIMES reports that the Governor is set to move to Accord Party due to the uncertainty that beclouds his ambition for second term as Governor of Kogi state.
The governor is said to have been petitioned by individuals, groups and even members of his party before the National Working Committee (NWC) of APC, all complaining that his administration has performed poorly.
An indication that the governor is on his way out is the removal of APC flags hoisted in the premises of Government House, including the one hoisted at the main entrance gate to Lugard House, the seat of the state government.
The Accord Party secretariat has reportedly been renovated by the governor. Although the Accord Party was his alternative party in 2015 when he lost the APC governorship primary to late Prince Abubakar Audu, he was eventually nominated to take the place of Audu in the supplementary election.
According to sources, Governor Bello is said to have disclosed to some of his closest allies in his cabinet that some cabal in Aso Rock advised him to move to another party since forces were against him for the ticket.
According to him, he has been assured of their support if he contests the governorship election in another party.
The sources also disclosed that the governor of Benue state, Dr. Samuel Ortom, a good friend of Bello, also advised him to dump the APC for another party so that he could contest in the election.
Already, the national secretariat of the APC received over 10 petitions submitted by individuals, various groups and also within the party demanding that Bello should not be given ticket for second term.
Senior officials of the party at the national secretariat in Abuja that preferred anonymity, however, said while it was normal for discontent to exist in the polity, it was doubtful if Governor Bello would contemplate jumping ship.
"What the national leadership is determined to do is to level the playing field for all aspirants to play. The question of anyone being favoured by Abuja is totally misconceived," an official said.