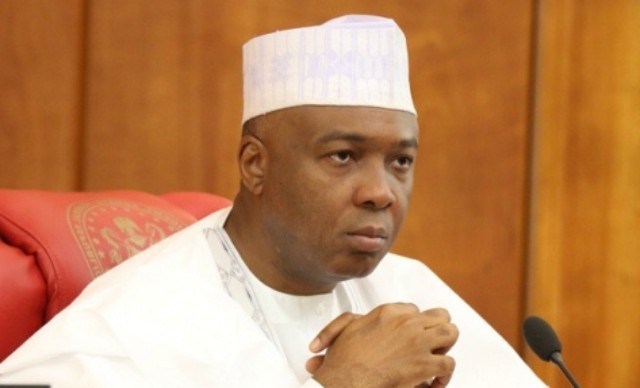 A man that was revered, feared and admired by most politicians and followers of political happenings finally made a political miscalculation. Sen. Abubakar bukola saraki (Turakin Ilorin) was the two terms governor of kwara state, a two term senator and one term Senate President. He inherited the control of Kwara politics from his late Dad Chief Olusola Saraki of blessed memory. But like his father, Sen. Bukola finally made the wrong call too. What if Bukola didn't try to sarbotage President Buhari's government because of his own ambition? What if Bukola stayed with the flock (APC)? What if he waited till 2023 after president Buhari's second term then bring forth his own Presidential ambition? He would have served as Senate president for two terms, enthrone another kwara state government and has an advantage of being a Yoruba Muslim!
Don't you think he would be more formidable and unstoppable? But alas pride comes before a fall Saraki is too ambitious (ambition isn't a bad thing, so far as it is healthy) Saraki and Atiku's ambition are both unhealthy and two bullies cannot be in the same room. They are definitely bound to fail. History will remember Senator Bukola for many things, one of which was the usual delay in passage of budget, which in turn, hindered timely execution of projects. It is on record that 2018 budget submitted to National Assembly on November 7 2017 was passed after a whole freaking 7months! It doesn't stop at the budget, any other thing that needs approval of the senate by the presidency always goes under serious scrutiny, and even the seasoned politicians among the senators have no say whatsoever. Senator Bukola was really in charge and he made sure they know that, (talk about stepping on toes) and then finally he officially left APC, an action that was foreseen beforehand. When APC are busy campaigning, Saraki and Atiku' s PDP are busy dishing out propaganda which by the way only reaches online followers, they were together for their hatred for Buhari not love for each other and of course (their) respective selfish interests.
That's how Saraki lost his Kwara and Atiku lost his dollars, worthy of note is the role his sister Sen. Rukaiya Gbemisola Saraki played in all this. She made sure he didn't win even the polling Unit in their Family house, it wasn't hard for her because she actually enjoy a good followership of her people coupled with her dad's goodwill (some believe she was on same page with late olusola Saraki on everything) and of course Sen. Bukola Saraki's arrogance even to his kinsmen. There is this popular saying that says " the perception of reality is more real than reality itself " Sen. Bukola was under the illusion that he can do whatever he want, whenever he want. A little patience and a little self-restraint was all Bukola needed, but that's politics, things happen, people make wrong calls all the time and of course these wrong calls come with a price. I hope Bukola enjoy his (retirement) and to Kwara people, let's see how you handle your post Saraki era because it's here.
Yusuf, a public affairs analyst and social commentator, writes from Lagos